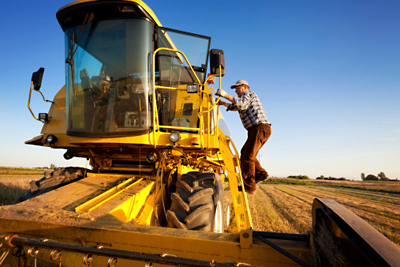 Global Agricultural Machinery Industry
The world agricultural machinery industry generated more than $56 billion in 2010, reports MarketLine. The market is expected to expand at a near 8% yearly rate through 2015 to reach almost $81 billion. The market involves the retail of tractors with less than 50 metric horsepower (which are classed as compact tractors), those above 50 metric horsepower and combine harvesters.
Agricultural market growth in developing nations will make up for slowing growth in developed countries in the years to come. Machinery market drivers include growing population, which increases food demand, and technological advances in machinery. Market growth depends on factors such as demand, economic climate and weather conditions.
As disposable incomes increase and living standards improve, demand for protein-rich foods fuels the need for agricultural products. Other industries that use agricultural products, including the pharmaceutical and petroleum sectors, also drive agricultural machinery demand.
Key Segments
Farm tractorsrepresent the leading market segment in the agricultural machinery and implements market. Tractors do most of the basic work in agricultural production. Advances in tractor technology and the integration of GPS are two major factors that have made tractors more versatile and suitable for a wider range of farming tasks. Machinery used for plowing and cultivation is expected to show a yearly growth rate in excess of 6.5% until 2017.
Regional Market Share
High range horsepower tractors of 100 horsepower and over are most commonly produced in the US and Canada. However, the EU and certain Latin American regions dominate the global market in medium-range tractor production, that is between 40 and 100 horsepower. In the lower range, below 40 horsepower, Japan is an important market player.
The EU agricultural machinery market generated almost $18 billion in 2010 according to MarketLine. The yearly growth rate is expected to increase to almost 5.5% through 2015, bringing the market to over $23 billion.
Asia-Pacific dominates the global agricultural machinery market in terms of growth. The region is expected to record close to 8% yearly growth until 2017, far outpacing growth in the established markets of the US and the EU. A major growth driver is farm mechanization in countries such as China and India.
Economic growth and rising disposable income along with the widespread mechanization of the farming industry in developing nations will fuel the agricultural implements and machinery market in the years to come. Mechanization of the agricultural industries in Russia, Brazil and Thailand will also fuel growth. Government spending to boost food production will also facilitate market expansion.
Industry Players
Leading companies operating in the global agricultural implement and machinery market include: AGCO, with headquarters in Georgia, US, which manufactures a range of equipment including combine, tractors, and tillage equipment sold in over 140 countries; Norway-based Kverneland, which employs close to 2,000 people with retail firms in almost 20 countries; and India's Escorts Group. Other leading players include German Claas KGaA mbH, which generated over $3.4 billion in sales in 2011, Deere & Company, Kubota and Kuhn Group.
Indian company Mahindra is among the world's top-three tractor manufacturers holding 40% of India's market share and with yearly tractor sales of over 150,000 units, ranging from 15 to 75 horsepower. CNH Global, Tractors and Farm Equipment, Same Deutz-Fahr Group, and Iseki are also major players.
Market Outlook
Agricultural implement and equipment are likely to receive more attention from investors over the years to come. An increasing amount of government spending will also go to ensuring enough food for the world's rising population. Financial backing is likely to be used to boost output mainly by focusing on technological innovation to improve implements and machinery.
Farmers use agricultural machinery to boost production. Tractors and machinery in general calls for high horsepower to work efficiently in the context of farming. Industry players are concentrating on technological developments to improve tractor power, with innovative solutions such as variable geometry turbochargers, high-pressure common rail fuel systems and engine controllers.
Leading Industry Associations
You might be interested in these related markets