Global Restaurant & Food Services Industry Overview
Restaurants and food service companies serve meals and snacks for immediate consumption. The Food Services Industry is a segment of the much bigger Food Industry as well as the Tourism and Leisure Industry.
Restaurant types include self-service, assisted service, service at table, takeaways and home deliveries. The industry also includes catering services, for example for companies, institutions and events. Cafés and restaurants represent the leading market segment at over 50% of overall industry value.
The global market was valued at $2.6 trillion in 2013, having grown at a compound annual growth rate (CAGR) of 5% from 2009 to 2013, according to Euromonitor.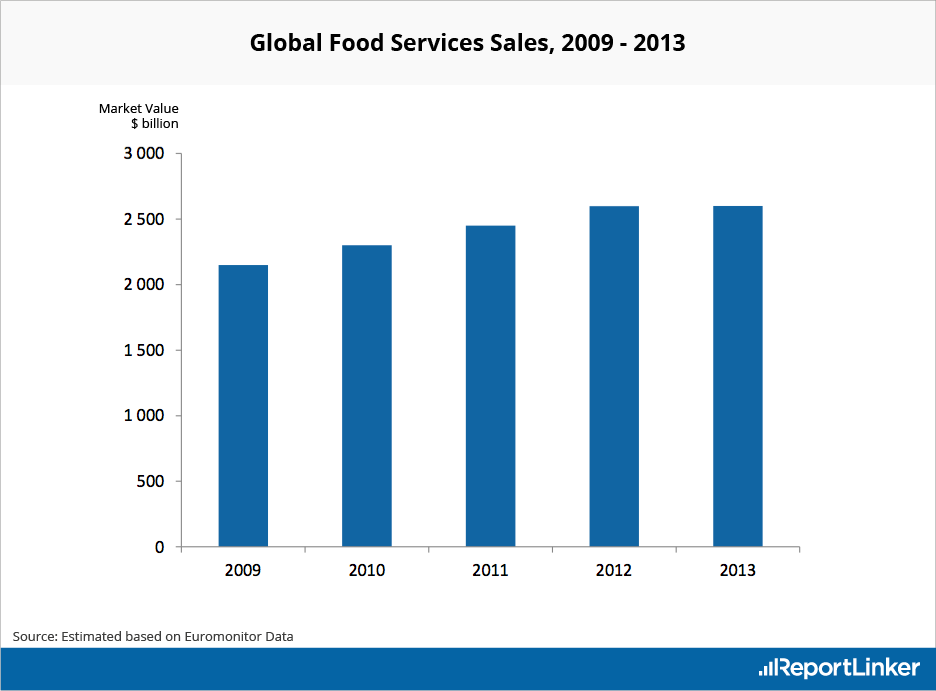 Food Services Key Markets
The U.S., China, Japan and Europe are the key food services markets.
The U.S. is the largest food services market. It accounted for 25% of the global market in 2013, according to estimates based on National Restaurant Association data.
China, the second largest market globally, held a 20% share in 2013. It experienced the fastest global growth rate (11%) in 2012-13, according to Agriculture and Agri-Food Canada (AAFC).
Japan accounted for 14% of the global food services market in 2013. Japan is famous for high quality dining, however the market has been growing slowly with growth of less than 1% in 2012-13.
The U.K., France and Germany were major food services markets in Europe, collectively worth 9% of the global market in 2013. These countries and Japan, however, saw growth of 2% or less in 2012-13, according to AAFC.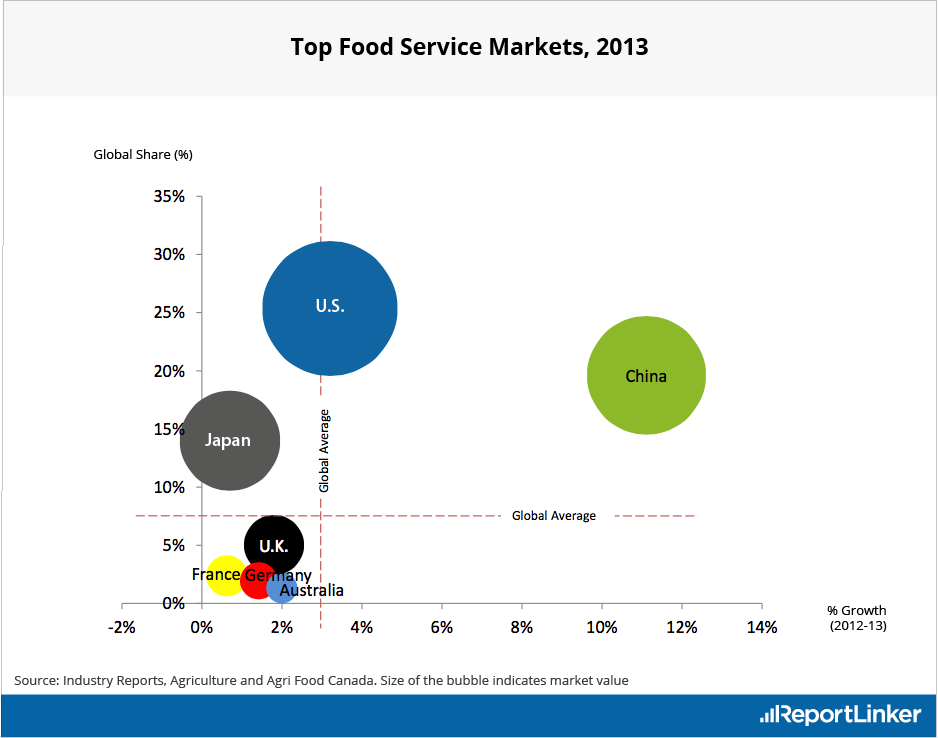 Restaurant Industry Key Players
The global food services market is fragmented. The top ten players accounted for only 5% of the market in 2013, according to company presentations.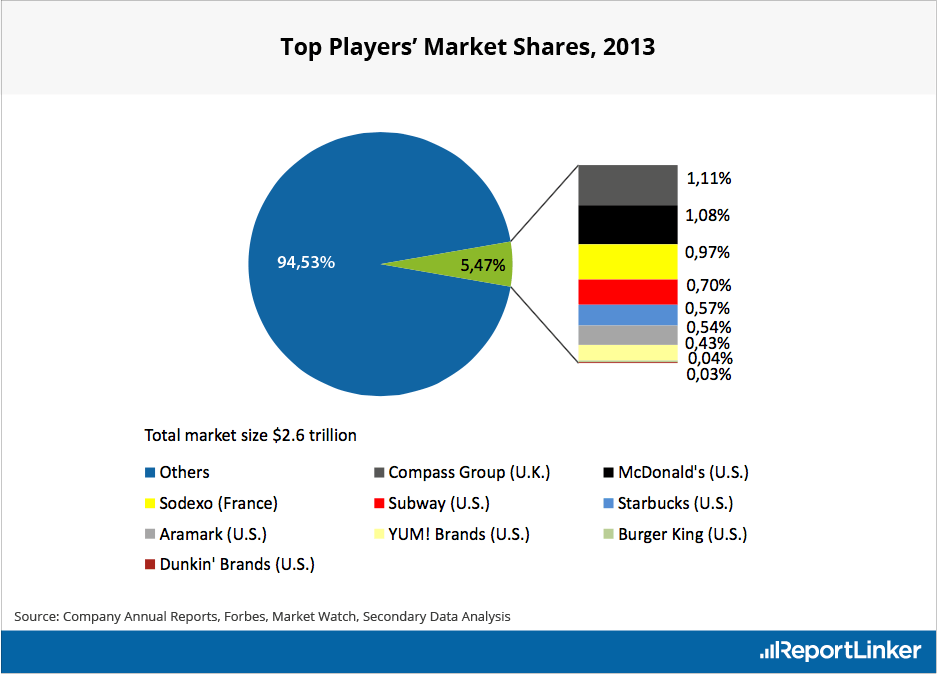 Compass Group and McDonald's are the top players globally, specializing in catering services and fast-food restaurants respectively.
Compass Group is a U.K.-based food service provider. It offers food and supporting services across 50 countries, employing around 500,000 people. It had revenues of $28.3 billion in 2013. Its main business is food and drinks services within healthcare facilities, old people's homes, education centers, sports facilities and other organizations.
McDonald's is the second largest player in the industry, with revenues of $28.1 billion in 2013. It has 35,000 local restaurants serving 70 million people in more than 100 countries each day, and employs more than 1.9 million people. It is a self-service restaurant chain which primarily sells burgers (made from beef, chicken, fish or vegetables), fries, soft drinks and ice creams. In recent years the company has responded to the trend towards healthy eating by introducing salads and wraps.
Food Services Market Forecast
Global food services industry revenues will rise from $2.6 trillion in 2013 to $3.4 trillion by 2017, growing at a CAGR of 7%, according to Euromonitor.
Asia Pacific and Latin America are forecast to be the key drivers of this growth.