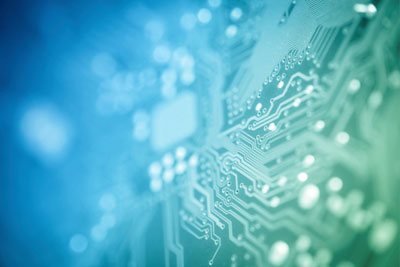 Global Electronic Component & Semiconductor Industry Analysis
The world electronic component and semiconductor market (one of the main segments in the advanced materials sector) reached $430 billion in 2010, according to MarketLine. The market is expected to grow 8% yearly until 2015 to reach $628 billion, compared with 1% annual growth from 2006 to 2010. Integrated semiconductors represent the leading market segment, reaching almost $230 billion in 2010, orclose to 54% of the overall market.
Electronic Components
A wide array of industries are reliant on electronic components including consumer electronics, telecommunications and automotive. The electronic components industry grows in tandem with the electronics industry, accommodating technological innovation in the latter. BCC Research notes the role of a growing global communications network in fuelling the telecommunications industry, and the positive impact of the shift towards 3G/4G technologies on the electronic components industry
The transition towards digital entertainment is a major driving factor behind the consumer electronics sector. Many products are reliant on electronic components, including gaming consoles, digital cameras, computers and portable music players such as iPods and MP3 players.
The automotive industry is also increasingly reliant on electronic components as options for sound systems, driver assistant systems, global positioning systems (GPS) and car entertainment, which are becoming standard features expected by drivers.
Other sectors, including the defense and aerospace industries, also use electronic components, and the medical sector needs components to operate equipment used to detect and treat disease.
Semiconductors
The world semiconductor market is expected to exceed $372 billion by 2015, according to Global Industry Analysts. Increasing demand for consumer electronics like computers, smartphones and notebooks is driving demand for semiconductors. Asia-Pacific and other developing regions will record strong growth.
Semiconductor technology is vital to many communications and information technology sectors, used in producing a range of devices including audio players, computers, telephones, televisions, microwaves, printers, portable media players and home-theater systems.
Improvements such as higher silicon chip power and smaller transistors have contributed to advances in semiconductor development, making it possible to use semiconductors in the intricate systems of weaponry and automotive electronics. Innovation has led to cheaper, smaller, faster semiconductors, suitable for use in more complex applications.
Global Industry Analysts predicts the global micro electromechanical systems (MEMs) device market will reach $9.2 billion in 2015. MEMs demand has been boosted in part by increasing passenger car production. MEMs technology makes possible the miniaturization of products used in a wide array of sectors, including consumer electronics, healthcare, semiconductor and automotive.
US Regional Market
Hoovers estimates that the US semiconductor and electronic component manufacturing industry is worth around $100 billion, with nearly 4,300 companies in operation. Among the larger US companies are Advanced Micro Devices, Micron Technology, Texas Instruments and Intel. The industry is concentrated, with the top 50 companies accounting for 65% of the overall market.
Market Outlook
The global semiconductor market is expanding due to various factors, including the corporate trend towards laptops to boost mobility. Demand for NAND flash memory devices and Application-Specific Integrated Circuits due to widespread penetration of smartphones and PCs will continue to boost semiconductor demand in coming years.
The semiconductor market will be fuelled by wireless and mobile activity, with companies and individuals opting for equipment such as tablet PCs, GPS enabled devices, smartphones and handheld video game players.
As innovation and technological developments make electronic components suitable for an ever-growing range of end products in several sectors, demand is set rise. The increased use of integrated circuits will boost demand for components, with each integrated circuits using around 20 passive components.
The global semiconductor and electronic component industry will benefit from a shift toward mobile communications, both in the office and in the home, along with technological innovation leading to smaller and smaller electronic devices.
Leading Industry Associations
You might be interested in these related markets