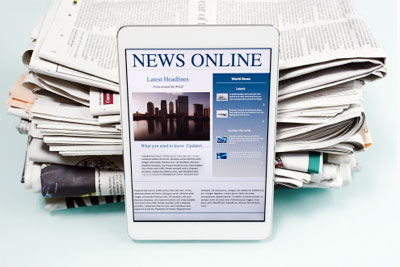 Global Press Industry
The global press media industry has recorded declining demand over recent years due to the economic recession, changing demographics, evolving readership habits, reduced investment in advertising, a falling off in younger readers and rivalry from competing media channels.
The biggest challenge faced by the global press industry remains changing readership habits instigated by the information technology age. While readers traditionally got daily news from their newspaper, nowadays readers have access to news online as events are unfolding. Press media is no longer at the top of the news chain since the expanding penetration of mobile internet devices.
With consumers increasingly opting for instant information via the web, allowing them to follow news events in real time rather than in printed news, circulation volumes continue to fall. Reading habits are also changing, with a shift from a general overview of world events to specific information searches. Busier lifestyles are leaving consumers with less time; therefore the appeal of a targeted inquiry for relevant information is of more appeal than getting a broad outline with a wider scope.
During times of economic turmoil, newspaper publishers face the challenge of dwindling corporate advertising budgets, with the auto industry and real estate market cutting back on advertising spending. Print media employment pages have also record a decline, and even outside of periods of economic decline, job seekers are increasingly likely to check job offers online and free of charge, rather than buying newspapers.
The press industry has had to accommodate busy metropolitan readers with online versions and smaller-sized print formats to allow city dwellers keep up with the news while travelling in small spaces and allowing access on mobile devices such as iPads and iPhones.
More »