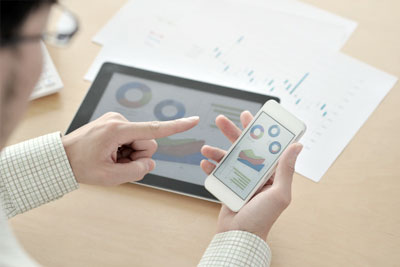 Global Online Finance Industry Report
The global online finance industry (which allowed the further expansion of the financial services market on the internet) is attracting increasing numbers of consumers eager to carry out their banking online and on mobile devices for optimal convenience and time efficiency. The challenge facing financial service providers is to set themselves apart by offering online solutions that afford customers easy access and management of their finances via the web.
Global Industry Analysts estimates internet banking will be used by more than 657 million customers by 2015, with the market fuelled by rising numbers of internet users and improvements in web technology.
The world internet banking industry is witnessing rising demand in established markets where younger customers are opting for the ease of online solutions. The US, the EU and Asia-Pacific hold a combined 80% share in the world internet banking industry.
Financial service providers must focus on monetizing the online banking channel to drive market growth, notes Datamonitor. Developing markets are increasingly moving toward the channel afforded by mobile phone banking, with over 50% of consumers contending that mobile phone banking is a priority banking channel. This consensus falls to under 28% in developed nations.
Banking websites devote a large portion of their marketing efforts to attracting new customers. Going forward, financial institutions may seek to exploit the potential of using customer data to market to existing customers beyond the login page.
Key Market Segments
The global alternate payments market – made up of contactless, mobile, and online payments (through online banking) – is forecast to record close to 18% growth in the five-year period ending 2015, reports Business Insights. The alternate payments industry is expected to generate $2.7 trillion in 2015, up from less than $750 billion in 2010. Online payment represents the leading segment in the advanced payments market. Market growth is fuelled by internet penetration, e-commerce, smartphones and rising broadband subscriptions. Near Field Communication is set to become the industry standard for mobile payments as the industry witnesses a high degree of convergence regarding devices, technology and/or business strategy approaches.
The world mobile payment market continues to record strong growth, and is forecast to exceed $555 billion by 2016, according to Visiongain. Technology is gradually being deployed on a commercial basis following operator trials. It is estimated there will be 750 million mobile payment customers by 2016, up from 140 million in 2011. Market growth is being fuelled by increasing penetration of mobile devices such as smartphones.
Regional Market Share
China's mobile payment market neared 26% penetration in 2011, up from under 19% the previous year, according to Research In China. Market transaction value reached close to $1.7 billion in 2010. China UnionPay's mobile payment standard product NFC-SD entered Chengdu market in the first half of 2011, and banks including Huaxia Bank and Bank of Communications have teamed up with China UnionPay to set NFC mobile payment operations in motion.
Industry Leaders
Market Outlook
One of the main challenges for the global online financial industry concerns security. More consumers will opt for online finance solutions when this option begins to be perceived as completely secure. While consumers look for products online, many are as yet uncomfortable about shopping online for fear of security breaches that could compromise their financial information. As data can be accessed, hackers represent an ever-present danger and mean that online theft remains a concern for potential online finance customers.
Online functionality will also need to be bolstered to provide consumers with smoothly operating online solutions. Point-of-sale support is equally an area in need of improvement. Industry players will also likely focus on personalizing online finance solutions to better cater to customer needs and make use of internet technology for marketing purposes.
With increasing numbers of consumers using mobile devices and widespread mobile broadband penetration, financial outfits will need to also concentrate on mobile payments moving forward.
Leading Industry Associations
You might be interested in these related markets