Global Clothing and Textile Industry Overview
The global clothing and textile industry comprises fiber and yarn producing companies, textile manufacturers, clothing manufacturers and retailers.
The global textiles, apparel and luxury goods market was valued at about $3 trillion in 2011, growing at a compound annual growth rate (CAGR) of4% for 2009-2013, according to Marketline.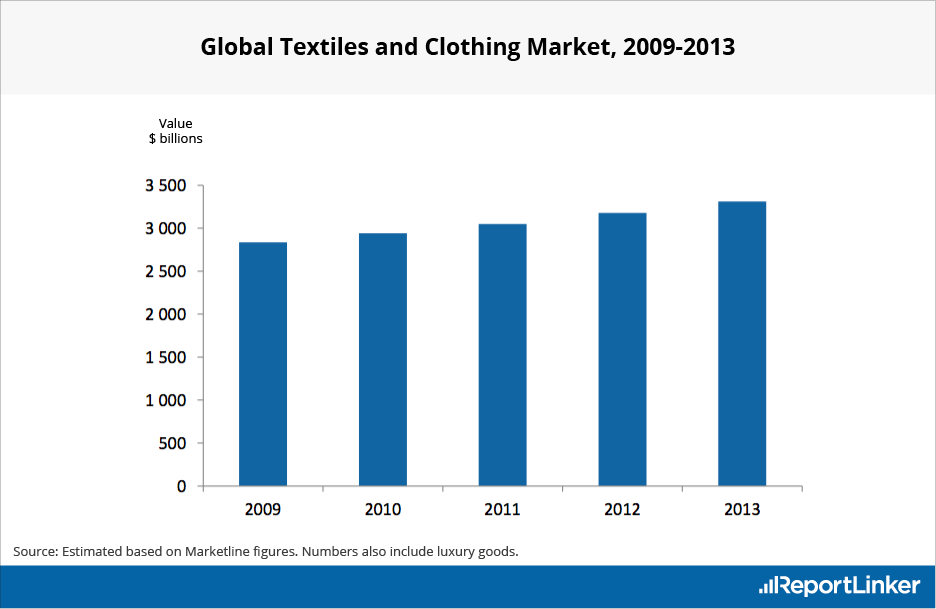 Textile Retail Sector Key Markets
In 2013, the U.S. textile industry generated about $57 billion in revenues, a 5% increase over 2012, based on the Congressional Research Service data. According to the U.S. Census Bureau, the U.S. textile industry invested $19 billion in new plant and equipment between 2001 and 2012. Since then, manufacturers, including Gildan Activewear, Parkdale Mills, Zagis USA, and Keer, have announced plans to increase domestic production of yarns, non-woven and technical fabrics by building new textile plants or expanding current facilities, according to Textile World.
In the European Union (EU), in 2013, revenues from textiles were$104 billion, according to Euratex. The total turnover of clothing in the EU was worth $94 billion in 2013, a decline of 3% from 2012. Women's clothing remained the largest sector.
China continues to lead in global clothing and textile exports. These were valued at $284 billion in 2013 and accounted for 37% of world clothing and textile exports in the same year, according to the World Trade Organization (WTO). China was the largest supplier of both textiles and clothing to EU countries in 2013, followed by Turkey and Bangladesh.
Apparel Industry Key Players
The clothing and textile industry is fragmented and diverse, ranging from fabric to finished good providers and includes all sorts of retailers even home textile stores. Major apparel manufacturers include Christian Dior, Nike and Inditex.
Christian Dior is a French luxury goods company with revenues in 2013 of $39 billion. Its products include ready-to-wear apparel. The brand is widely recognized for its offerings for women. It distributes its products through a combination of in-store and online sales, according to the company.
Nike is a U.S.-based company engaged in the design, development, manufacturing and sale of footwear, apparel, equipment, accessories and services. Its 2014 revenues were $28 billion. It sells products under brand names such as Nike Golf, Nike Pro, Nike+, Air Jordan, Air Force 1, Nike Dunk, Foamposite, Nike Skateboarding, and through subsidiaries including Converse. Nike uses a combination of retail stores and e-commerce platforms to sell its products, according to the company.
Inditex is a Spanish clothing company, with revenues of $17 billion in 2014. It operates over 6,460 stores in 88 countries globally. The company owns high-end prominent brands such as Zara, Pull&Bear, Massimo Dutti, Bershka, Stradivarius, Oysho and Uterqüe. The company started online sales in 2007 and plans to extend its e-commerce business. Currently Inditex has an online presence in 25 markets, according to the company.
Fashion Market Sales Forecast
The global textiles, apparel and luxury goods market is forecast to grow at a CAGR of 4% from 2011 - 2016, to reach $3.7trillionin 2016, according to Marketline.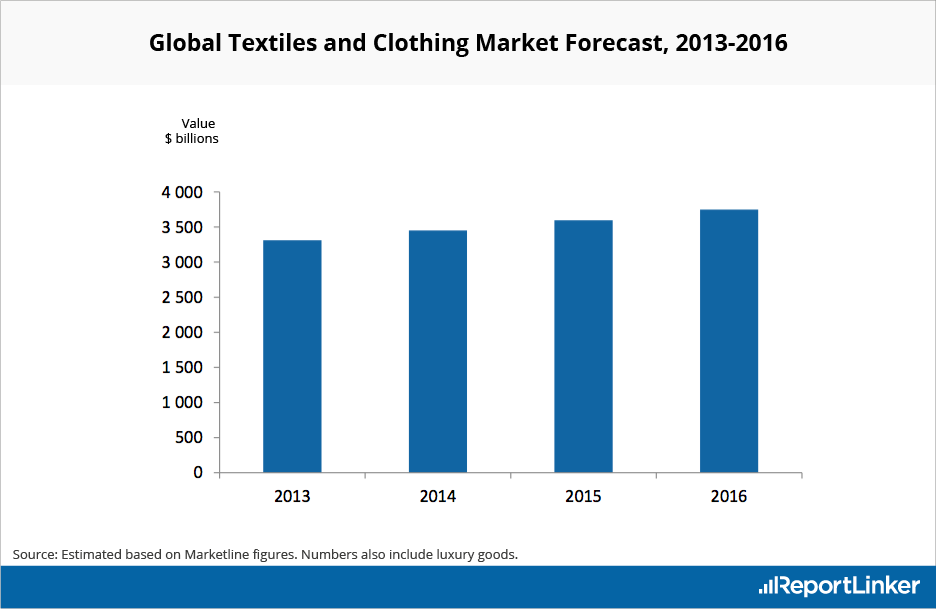 Economic development and trade treaties signed between countries are factors that will drive the global textile and clothing industry.