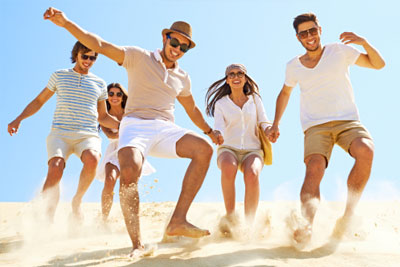 Global Leisure Industry
The world hotels, restaurants and leisure market generated almost $2.3 trillion in 2010, according to MarketLine. The industry is one part of the huge tourism and leisure industry. The sector is expected to record yearly growth of over 4% through 2015 to reach almost $2.8 trillion. Restaurants led the market in 2010, generating $2.57 trillion, or close to 70% of the overall market.
Leisure travel fared better than business travel during the economic recession, with less declines in 2009.
Key Market Segments
The world casinos and gaming industry is expected to reach $513 billion in 2015, reports MarketLine, representing a 34% increase in five years. Lotteries represent almost 30% of the overall market's value, with Asia-Pacific holding more than 43% of the global market.
The lottery market in China is expected to reach $46 billion by 2015, according to Mindpower Solutions, representing annual growth of 11% over five years. Welfare computer ticket games represent a leading market segment, forecast to exceed $16 billion by 2012. Macau casino and gaming profit climbed over 20% in 2011, and is expected to record almost 16% yearly growth through 2015. E-gaming is a leading market sub segment, boosted by higher income across younger demographics. In the EU this sector's yearly growth is estimated at almost 8% between 2009 and 2012.
The global electronic gaming industry (which is part of the toys and games sector) continues to expand, with handheld consoles proving particularly popular, attracting growing numbers of players to the gaming ranks. Computer games are benefitting from easier downloading. Mobile electronic gaming is also gaining in popularity as an increasing number of consumers own mobile devices like smartphones. Arcade gaming is declining in popularity as gamers favor a more personal gaming experience.
The world digital living room (DLR) devices market reached almost $145 billion in 2010, reports BCC Research. The market is expected to record 9.5% yearly growth through 2015 to reach almost $226 billion. Asia represents the largest regional market, generating almost $63 billion in 2010. The sector is expected to record yearly growth in excess of 9% through 2015 to reach $97 billion. The rest of the world is expected to show almost 22% yearly growth in the same period.
The US and the EU lead the world leisure boating industry, reports Koncept Analytics. Motorboats account for over 75% of the industry, with sail boats accounting for the rest. Obstacles to the market include casualties and negative weather conditions.
The golf industry (as part of the global sport industry) saw profit rise almost 1% in 2010 and more than 1% in 2011, according to Mindpower Solutions. The US golf course market is expected to show 4% yearly growth through 2016. The global golf market is highly fragmented, with leading regions including the US, parts of the EU and Japan.
Regional Markets
China's online game industry is expected to surpass $8 billion in 2014, reports Pearl Research. In 2010, the market expanded 25% to $5 billion.
China's budget hotel industry expanded 7% in the second quarter of 2011 to almost 6,410 hotels. Home Inns took over Motel Inn in mid 2011, with more than a 23% stake in the market.
The hotels and motels market in the US reached revenue of almost $136 billion in 2011, reports MarketLine. The market grew at an annual rate of 1.5% for the four-year period ending 2010, at which point leisure was the leading market segment, exceeding revenue of $101 billion, representing 75% of the overall market. Annual industry growth is predicted to reach almost 7% through 2015 to reach $188 billion.
France's hotel and motel market surpassed $36 billion in 2010, according to MarketLine, and is forecast to record almost 5% yearly growth through 2010 to reach almost $46 billion.
Market Outlook
With increasing numbers of people working long hours in offices, the emphasis on leisure continues to grow. The demand for leisure activities such as sports and other hobbies (e.g. performing art, watching movies and listening to live music) is climbing. Therefore, related industries benefit from this changing lifestyle (i.e. the book industry).
Rising income and more affluent populations in developing countries in particular will continue to drive the global leisure industry. Leisure activities are gaining an increasingly prominent position in the social landscape, recognized as an important lifestyle choice. Employees needing to unwind outside of work are trying out an ever-growing range of hobbies, while according more importance to the place of leisure activities for their children. The shift from tangible to online activities has harmed some industries that just still struggle to operate the transition to the digital world (e.g. Amusement and Theme Parks)
In Europe, Ireland and the UK will continue to lead the golf market (also dominating the golf equipment sector), while Asia will see golf tourism (thanks to brand new golf and, more generally, sporting falicities) and higher income fuel the market over the next coming years.
Wider internet connectivity and ownership of mobile communications devices will drive the gaming industry worldwide as well as the musical instrument sector which benefits from the increasing sharing of musical performances on social media.
As people work long hours and many households have two parents in the workforce, consumers will continue to combine necessity and leisure in the form of restaurant dining, expanding this leading market segment.
Leading Industry Associations
You might be interested in these related markets