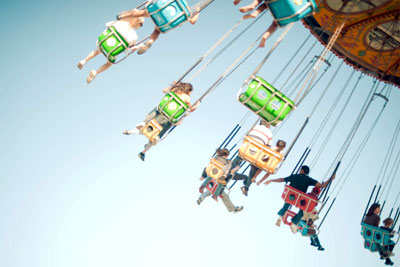 Global Theme & Amusement Park Industry
The global amusement and theme park market is a part of the broad leisure industry. This sector is expected to generate revenue of almost $32 billion by 2017, according to research from Global Industry Analysts.
Though the industry was negatively impacted by the economic recession in 2009, it entered into a phase of recovery in 2010 and 2011. Going forward market growth will be fuelled by rising consumer spending on leisure and entertainment, increasing levels of disposable income, and higher mass entertainment popularity. Urbanization in developing countries and an expanding base of middle-class households will also drive demand.
Theme parks involve specialized entertainment with a specific theme, offered at outdoor sites. Traditional theme parks feature a range of games, concerts, rides and events organized around a theme such as movies, myths and legends, countries, and fairy tales. Theme parks are popular outings for family leisure activities and entertainment.
The US and Western Europe are established markets where theme park visitor attendance has been stabilizing over recent years. Obstacles to market growth in this sector mainly originate in rivalry from other entertainment options, widening deficits, and unemployment.
Regional Market Share
The US amusement parks industry continues to record strong growth, with visitor attendance forecast to grow over the coming years, reports Taiyou Research. As the US economy continues to recover from the lows of the recession, growth in its travel sector is expected boost amusement park revenue. Leading names in the US amusement park industry include Six flags and Walt Disney and Cedar Fair.
IBIS World forecasts that amusement parks will attract more consumers by adding new attractions. Growth will also be driven by improving consumer confidence due to economic recovery, giving rise to growing demand for entertainment. Leading outfits will concentrate on international expansion to bring in more revenue and parks across the board will attract customers through special packages and offers in domestic sites.
With visitor attendance numbers continuing to climb, along with in-park spending, amusement park foodservice sales in the US have exceeded prerecession levels, with continued growth expected through 2014, reports Packaged Facts. Amusement park foodservice strategies are influenced by domestic restaurant brand opportunities, demand for healthier foods, entertainment district growth, and evolving marketing tactics. Companies focus on finding the right foodservice solution for the specific food preferences and habits of each specific amusement park and its guests. Amusement park outfits research park visitation behavior, attendance trends and guest demographics to boost foodservice revenue.
While the US leads the global amusement and theme parks market, Asia-Pacific represents a region recording strong growth. Global Industry Analysts forecast Asia-Pacific amusement park growth will exceed a yearly rate of 6% over the coming years. Factors contributing to Asia's rapid growth in this sector include rising levels of discretionary income, higher income levels in general, improving standards of living, and rising spending on leisure and entertainment. Theme park attendance and visitor per capita spending is expected to improve in countries such as Hong Kong, Korea, India, Taiwan and China due to state-based focus on promoting tourism and entertainment.
The EU theme park industry is faring well despite the prevailing debt crisis, according to research from Global Industry Analysts. The EU tourism sector is witnessing a growing number of visitors due to depreciation of the Euro and the Euro zone debt crisis. The number of middle class Asian tourists visiting the EU is expected to continue rising, particularly if the Greek crisis further compromises the Euro making EU luxury goods cheaper. Asian visitors, and Chinese visitors in particular, will flock to the EU to avail of cheaper luxury shopping.
Industry Leaders
Leading names operating in the global amusement and theme park industry include Magic Kingdom, Yokohama Hakkeijima Sea Paradise, Cedar Fair Entertainment, Six Flags, Universal Studios Hollywood, Disneyland, Tokyo Disneyland, The Adventuredome, Disneyland Paris, Samsung Everland, Tokyo DisneySea, Disney's Animal Kingdom, Universal Studios, Lotte World and Islands of Adventure.
Market Outlook
Over the coming years, Global Industry Analysts predicts the park within a park concept will become a more evident trend in the global theme parks industry. The majority of theme parks are expanding to include more hotel rooms and add secondary attractions to attract more visitors.
Parks are upgrading with investments in new rides, wireless and interactive technology services for guests (such as RFID badges, Wii, kiosks, etc) and by adding new zones. These efforts are expected to result in climbing visitor attendance numbers. Parks are expected to continue to adopt for virtual reality and simulation technologies to replicate natural scenarios.
Leading Industry Associations
You might be interested in these related markets