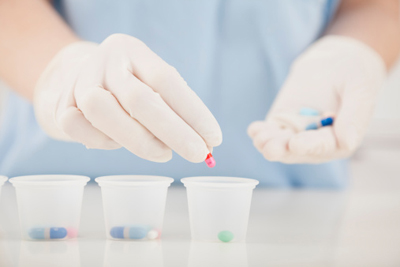 Global Pharmaceutical Industry
The global pharmaceutical industry is expected to be worth more than $1 trillion in 2014, marking a 5% compound annual growth rate according to research from Urch Publishing.
The industry is comprised of companies that make, patent and sell drugs that have therapeutic effect. The market is highly competitive and entry is difficult due to a combination of strict regulations and the need for extensive research and development, involving time-consuming clinical trials.
In addition, high research and development costs, lengthy clinical trial processes, expiring patents and difficulty in gaining product approval from the appropriate regulatory bodies all mean that companies must produce blockbuster drugs and continue to do so to remain in good standing.
Other challenges facing the industry include pressure from purchasers, such as hospitals, who negotiate discounts with wholesalers or manufacturers when buying in bulk – thereby increasing pressure on pharmaceutical companies to produce cost-effective drugs to remain competitive and gain approval for new drugs. According to the Center for Drug Evaluation and Research, on average there have been less than 23 approvals annually over the past decade. Industry observer Pharmalot states there was a fall in the number of applications for approval received by the US Food and Drug Administration from just fewer than 40 in 2009 to 23 in 2010.
Though patents protect the intellectual property rights of specific drugs, usually for approximately 20 years, pharmaceutical companies face increasing pressure related to generics, which are drugs comprised of the same ingredients as patented drugs but sold under a drug's chemical name rather than the pharmaceutical brand name.
Medical professionals can prescribe drugs under their chemical name without specifying a brand. The pharmaceutical market spans a spectrum of drugs and medication, including prescription, generic and over-the-counter drugs. The scope also includes drug delivery technology, drug discovery and development, vitamins and supplements, pathology, therapeutics, and pharmacies and drug stores.
Regional Pharmaceutical Market Share

The US is at the top of the global pharmaceutical market and is expected to hit almost $345 billion in 2014 according to MarketLine. The US is followed by the Japanese market, which is followed by the European market.
However, according to research by the International Federation of Pharmaceutical Wholesalers (IFPW), there are significant disparities between growth rates in developed and emerging markets based on their capacity to bounce back from the economic crisis. The latter includes 17 countries, which pharmaceutical market intelligence firm IMS divides into three segments:
The first includes only China for which analysts predict will become the third-largest pharmaceutical market in the world in 2011, with a forecast $40 billion increase by 2013 to match US market growth. MarketLine predicts the pharmaceutical market in China will reach almost $49 billion in 2015. Market growth in China is being fuelled by rising cases of chronic diseases, an aging population, and increased healthcare investment and insurance.
The second segment of emerging pharmaceutical markets includes Brazil, India and Russia, which together are predicted to increase between $5 billion and $15 billion by 2013. Additional research from MarketLine shows that Brazil will be growing strong on its own, and is expected to be worth almost $35 billion in 2015.
The third segment is comprised of Mexico, Venezuela, Argentina, Turkey, Poland, Thailand, Indonesia, Vietnam, Egypt, South Africa, Pakistan, Ukraine and Romania.
All segments combined represent 17 emerging pharmaceutical markets predicted to grow at a rate of around 16% in 2011 to reach between $170 billion-$180 billion largely due to an increase in healthcare spending by government, and private and public bodies, according to IFPW research.
Within developed markets, IFPW forecasts around a 6% growth rate, far lower than emerging market growth in 2011. Even lower growth rates are predicted in Europe, where the top five markets, namely the UK, France, Spain, Italy and Germany, are forecast to grow at around 2%.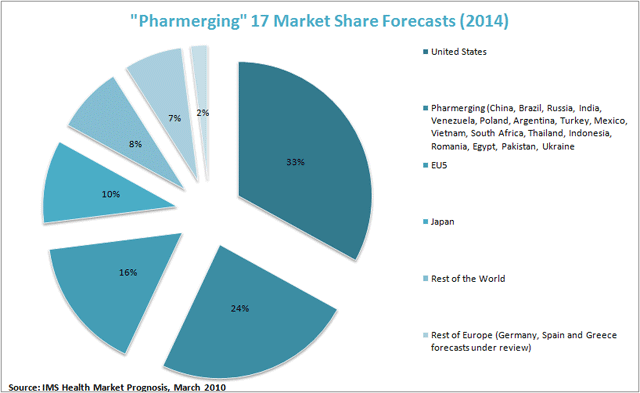 Pharmaceutical Industry Leaders
Industry analysts list the top industry leaders as Pfizer, Hoffmann-La Roche, Novartis, GlaxoSmithKline, Sanofi-Aventis, AstraZeneca, Abbott Laboratories, Merck & Co and Bristol-Myers Squibb.
Headquartered in New York, Pfizer has over 110,000 employees and is the leading research-based pharmaceutical company worldwide. Pfizer reported a 36% rise in revenue for 2010, reaching almost $68 billion, or up from $50 billion the previous year. This is largely thanks to its acquisition of competitor Wyeth, which Pfizer purchased for $68 billion. Pfizer manufactures the 2010 number-one selling prescription drug in the US, Lipitor. Sales for Lipitor reached $7.2 billion in 2010 and represented 18% of the company's biopharmaceutical revenue. Lipitor is used to treat patients with raised levels of cholesterol. Pfizer also acquired King Pharmaceuticals in 2010 at the cost of $3.6 billion. King manufactures various medications for use in pain management, a market worth $22 billion. King products that will likely boost Pfizer sales include Embeda and Remoxy, which are painkillers that pose less risk of addiction than other offerings on the market. Emeda sales for the six-month period following its launch reached sales of almost $24 million.
Swiss-based Novartis was established in 1996 with the merger of Sandoz and Ciba-Geigy. Among its well-known drugs are Gleevic, used in the treatment of chronic myeloid leukemia. In one of its initiatives, Novartis supplied Gleevic to 27,000 patients spanning 80 countries. In 2010, Novartis's Gilenya was approved in the US by the FDA, and in Russia and Switzerland. Gilenya is the first oral treatment used in the treatment of relapse-remitting multiple sclerosis. In the second quarter of 2011, Novartis saw its net sales grow 27% to almost $15 billion. Its core operating income increased 29% to $4.2 billion.
AstraZeneca, a leader in the pharmaceutical market, was established in 1999 with the merger of UK based Zeneca Group and Swiss Astra AB. The company has 61,000 employees across 100 countries, with almost half of them in the US and Africa, Asia and Australasia. The EU accounts for 46% of its workforce. AstraZeneca invests more than $4 billion annually in research and development and has 14 research centers in eight countries worldwide. The company's sales for 2010 reached $33 billion. In 2011, it saw product liability lawsuits put a dent in its profits, having to put aside almost $650 million to settle over 28,000 lawsuits concerning its drug Seroquel. Claimants allege that Seroquel, an antipsychotic used in the treatment of bipolar disease and schizophrenia, may cause diabetes in some users. The company is involved in the manufacture and/or distribution of over 93 drugs in the US, 9 of which were among the top 200 drugs sales in the US in 2010, reports Drugs.com.
Top 20 Global Pharmaceutical Companies (2010)
2010 Ranking
Corporations
Sales,

*In US$ Mn

1
PFIZER
55,602
2
NOVARTIS
46,806
3
MERCK & CO
38,46
4
SANOFI-AVENTIS
35,875
5
ASTRAZENECA
35,535
6
GLAXOSMITHKLINE
33,664
7
ROCHE
32,693
8
JOHNSON & JOHNSON
26,773
9
ABBOTT
23,833
10
LILLY
22,113
11
TEVA
21,064
12
BAYER
15,656
13
AMGEN
15,531
14
BRISTOL-MYERS SQB.
14,977
15
BOEHRINGER INGEL
14,591
16
TAKEDA
12,983
17
DAIICHI SANKYO
9,797
18
NOVO NORDISK
9,719
19
EISAI
8,757
20
OTSUKA
8,732
Total
791,449
Source: IMS Health Midas, December 2010
Market Outlook
The market for pharmaceutical goods is increasing due to an aging global population, advances in drug-based treatment research, increased investment in healthcare and consumer-driven private health coverage, and rising numbers of patients suffering from cardiovascular disease, cancer and degenerative diseases. Market growth faces particular challenges such as price pressures, strict regulation, lawsuits and expiring patents.
Aside from lawsuits faced by AstraZeneca mentioned above, there are many other cases of costly legal settlements, which are an unavoidable course of business in the pharmaceutical industry. Also, expiring patents are paving the way for generic drugs to produce cheaper versions of blockbuster drugs, cutting into pharmaceutical company profits. Many leading drugs on the market are to see their patents expire over the next five years. According to industry reports, the patents for 10 top selling drugs will expire by 2013; namely, they are Lipitor, Plavix, Seroquel, Actos, Enbrel, Singulair, Levaquin, Zyprexa, Concerta and Protonix.
Leading Associations