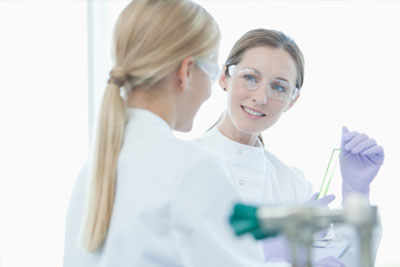 Global Drug Discovery and Development Industry
The global drug discovery and development industry (part of the wider pharmaceutical industry) involves the discovery and design of drugs through laboratory testing to treat disease and infection. With costs running high and few drugs making it to the market, drug discovery and development leaders are constantly seeking ways to reduce expenditure and boost efficiency.
One option companies frequently avail of is the practice of outsourcing sections of the discovery and development process. The global drug discovery outsourcing market is expected to grow from less than $7.5 billion in 2009 to a forecast worth of $18.5 billion in 2015, according to Business Insights. Meanwhile, the global drug discovery technologies market is expected to be worth more than $32 billion by 2012, growing at an annual compound rate in excess of 8%.
The industry requires heavy investment with no guarantee of results, including under 1% of discoveries going on to be approved by the US Food and Drug Administration. The process itself can take between 12 and 20 years, and cost over the $1.2 billion mark, reports the Alfred Mann Foundation for Biomedical Engineering.
Key Drug Launches (2009 - 2013)
| | | |
| --- | --- | --- |
| Disease area | Launched | Upcoming |
| Arrhythmia | Brinavess™ (vernakalant) | |
| | Multaq® (dronedarone) | |
| Autoimmune | Simponi® (golimumab) | tofacitinib (JAK inhibitor) |
| | Stelara™ (ustekinumab) | |
| Diabetes | Nesina® (alogliptin, DPPIV) | Bydureon™ (exenatide,GLP-1) |
| | Onglyza™ (saxagliptin, DPPIV) | canagliflozin (SGLT2) |
| | Victoza® (liraglutide, GLP-1) | dapagliflozin (SGLT2) |
| | | lixisenatide (GLP-1) |
| | | Tradjenta™ (linagliptin, DPPIV) |
| Hepatitis C | | Victrelis™ (boceprevir, NS3-4A PI) |
| | | Incivek (telaprevir, NS3-4A PI) |
| Lupus | Benlysta® (belimumab) | |
| Melanoma | Yervoy™ (ipilimumab) | vemurafenib |
| Multiple sclerosis | Ampyra® (fampiridine, (oral) | laquinimod (oral) |
| | Gilenya® (fingolimod, (oral) | ocrelizumab |
| | | teriflunomide (oral) |
| Osteoporosis | Prolia® (denosumab) | |
| Thrombosis/Acute coronary syndrome | Brilique™ (ticagrelor, P2T) | Eliquis (apixaban, Xa) |
| | Effient® (prasugrel, Xa) | |
| | Pradaxa® (dabigatran etexilate, Xa) | |
| Prostate cancer | Firmagon® (degarelix) | Zytiga™ (abiraterone acetate) |
| | Jevtana® (cabazitaxel) | |
| | Provenge® (sipuleucel-T) | |
Source: IMS Institute for Healthcare Informatics, Apr 2011
Leading Market Segments
It is estimated that high throughput screening will be worth $12 billion by 2012, showing over 7% growth in the preceding five years.
Bioanalytical instruments have a forecast worth of $10.5 billion in 2012, demonstrating growth in excess of 9%. It is believed the segment of other technologies should come close to the $4.5 billion mark in 2012. Business Insights estimates the electronic data capture market for clinical trials will pass the $1 billion mark in 2016 at 13% annual growth.
Process: Drug Testing and Development
The steps involved in drug discovery begin with the identification of targets, which are genetic or cellular chemicals that influence disease. Once the target has been isolated, the compounds that may work best on them can in turn be determined. Next, the chosen target's capacity to act on diseased cells is observed before compounds necessary to create a drug are determined, along with the drug target's response to the compound. In the next phase compounds are compared and data is compiled to aid biopharmaceutical companies to determine the most promising compound for drug creation.
Once a drug has been designed, it enters the preclinical phase of development in which it is tested for up to five years to establish its impact on cells. The drug also undergoes toxicology testing to determine any possible harm to humans. In the clinical phase, drugs are administered to humans to test efficacy and potential side effects before companies seek authorization to market the new drug. Research compiled throughout the process is submitted to the relevant authority as the company awaits approval; this part of the process can last up to two years.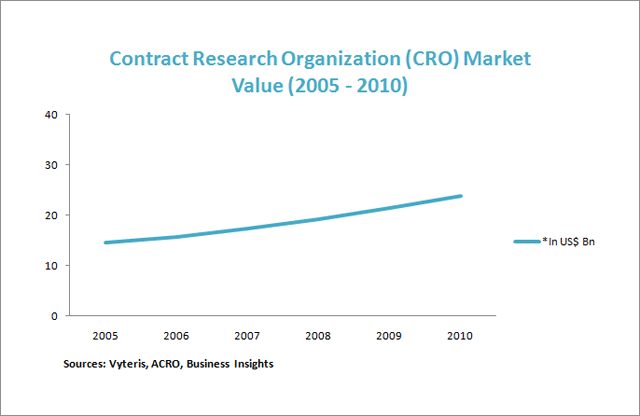 Industry Leaders
Charles River Laboratories International is a provider of laboratory animal services, research models and both preclinical and clinical support. In operation for over six decades, the company accompanies hospitals, government research facilities, pharmaceutical and biotechnology firms, and academic establishments around the world throughout the process of drug discovery and development. In August 2011, Charles River reached second quarter sales of $288.3 million, showing minimal year-on-year change. The company's research models and services segment showed more than 6.5% year-on-year growth, reaching second quarter sales of $178.2 million, an increase of more than $11 million on 2010. However, second-quarter profit from preclinical services dropped more than 9% to just over $110 million. In 2005, the company saw its sales reach $1 billion.
US-based Covance is a world leader in drug development with a global presence spanning 60 countries. The company, which has over 10,000 employees, has contributed to the development of one-third of prescription drugs being sold through its partnership with biotech and pharmaceutical companies since it was established in 1997. Its yearly profits are just under $2 billion. Covance nonclinical development services include toxicology, analysis and research. In its clinical development activities, Covance has contributed to the development of half of the latest groundbreaking cancer treatments on the market.
Drug Discovery and Development Industry Trends
Growth is expected to continue in the global drug discovery and development market due to increasing demand for pharmaceuticals to treat chronic diseases such as diabetes, cardiovascular disease, mental disorders and cancer.
Increasing laboratory automation is speeding the process of drug discovery and development, while technological innovation is facilitating research into the molecular mechanisms of disease. Technologies giving increased support to the industry include gene expression, live cell analysis and RNA interference. In addition, technology platforms used to analyze biomarkers and compound toxicity are likely to prove key for the industry moving forward. These platforms would allow researchers to hone in on markers of disease and minimize harm derived from compounds, thereby increasing a drug's chances of making it onto the market.
| | | |
| --- | --- | --- |
| Disease area | Launched | Upcoming |
| | | |
| Arrhythmia | Brinavess™ (vernakalant) | |
| | Multaq® (dronedarone) | |
| | | |
| Autoimmune | Simponi® (golimumab) | tofacitinib (JAK inhibitor) |
| | Stelara™ (ustekinumab) | |
| | | |
| Diabetes | Nesina® (alogliptin, DPPIV) | Bydureon™ (exenatide,GLP-1) |
| | Onglyza™ (saxagliptin, DPPIV) | canagliflozin (SGLT2) |
| | Victoza® (liraglutide, GLP-1) | dapagliflozin (SGLT2) |
| | | lixisenatide (GLP-1) |
| | | Tradjenta™ (linagliptin, DPPIV) |
| | | |
| Hepatitis C | | Victrelis™ (boceprevir, NS3-4A PI) |
| | | Incivek (telaprevir, NS3-4A PI) |
| | | |
| Lupus | Benlysta® (belimumab) | |
| | | |
| Melanoma | Yervoy™ (ipilimumab) | vemurafenib |
| | | |
| Multiple sclerosis | Ampyra® (fampiridine, (oral) | laquinimod (oral) |
| | Gilenya® (fingolimod, (oral) | ocrelizumab |
| | | teriflunomide (oral) |
| | | |
| Osteoporosis | Prolia® (denosumab) | |
| | | |
| Thrombosis/Acute coronary syndrome | Brilique™ (ticagrelor, P2T) | Eliquis (apixaban, Xa) |
| | Effient® (prasugrel, Xa) | |
| | Pradaxa® (dabigatran etexilate, Xa) | |
| | | |
| Prostate cancer | Firmagon® (degarelix) | Zytiga™ (abiraterone acetate) |
| | Jevtana® (cabazitaxel) | |
| | Provenge® (sipuleucel-T) | |
Leading Associations
You might be interested in these related markets