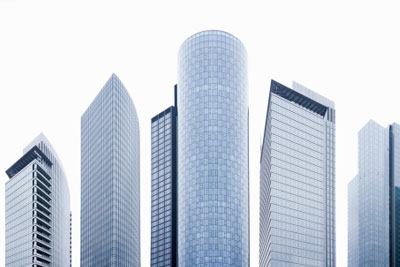 Global Construction and Building Industry Overview
The construction and building industry consists of businesses involved in the planning, design and erection of buildings. There are nine types of construction projects - residential building, light commercial, multi-family, health-care, environmental, industrial, commercial building, institutional and heavy civil construction.
The industry was worth approximately $7.5 trillion in 2013, according to estimates based on ICD Research. The construction industry saw rapid growth from 2009 to 2012, driven primarily by expansion in developing countries. Due to the euro crisis and the after-effects of the financial crisis in the U.S., however, the industry's revenue growth slowed from 2012 to 2013.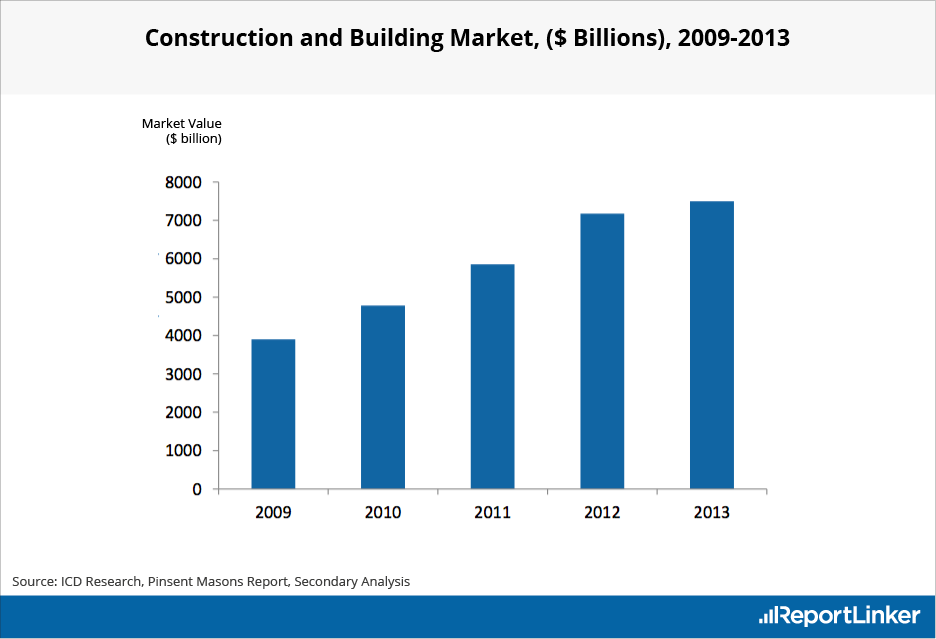 Construction and Building Key Markets
Asia (excluding Japan) was by far the largest region for the construction industry in 2013 and also saw the highest growth rate of 7% compound annual growth rate (CAGR) over the previous four years.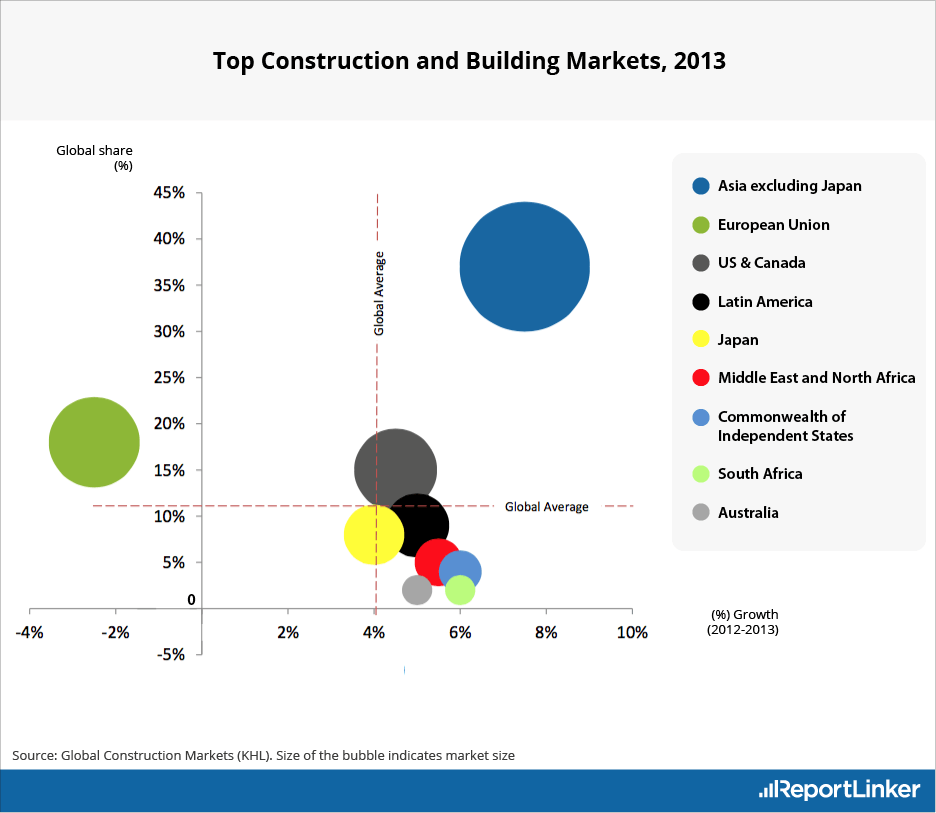 The U.S. and Canada accounted for a 15% share of the global construction market in 2013 and saw growth of around 4% 2012-2013, according to KHL. Europe experienced a decline of around 2% from 2012 to 2013.
Construction and Building Key Players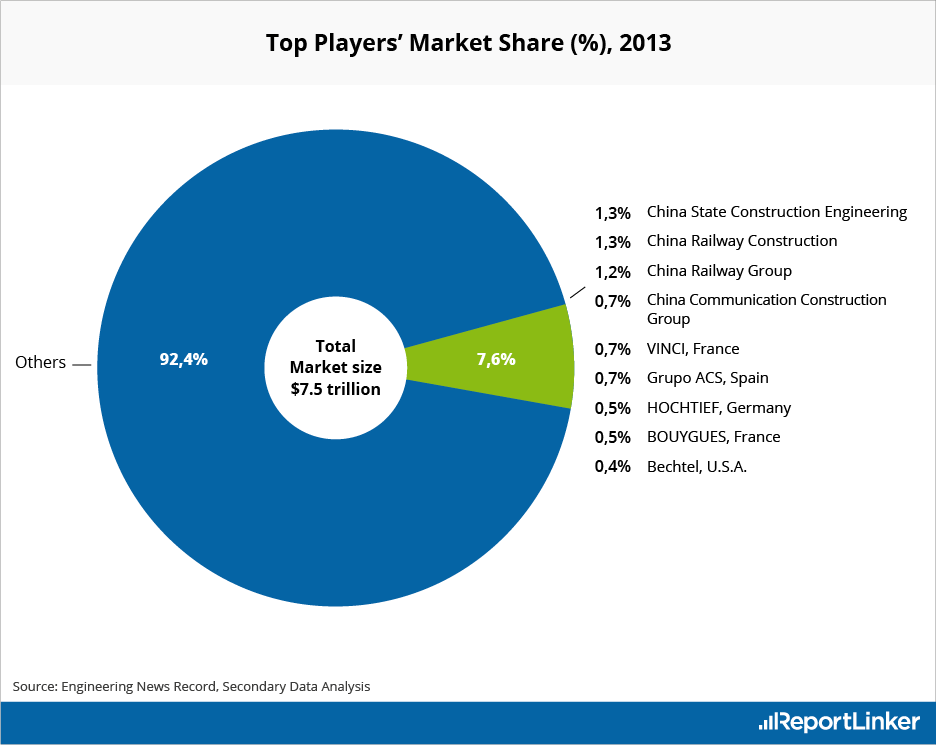 The global construction and building market is fragmented, with the top players accounting for less than 8% of the total market in 2013. The top 250 international contractors had total revenues from domestic projects of $871 billion in 2013, up by 7% on the previous year. They also had $544 billion in contracting revenue in 2013 through projects outside their local markets, up by 6% on 2012, according to Engineering News Record.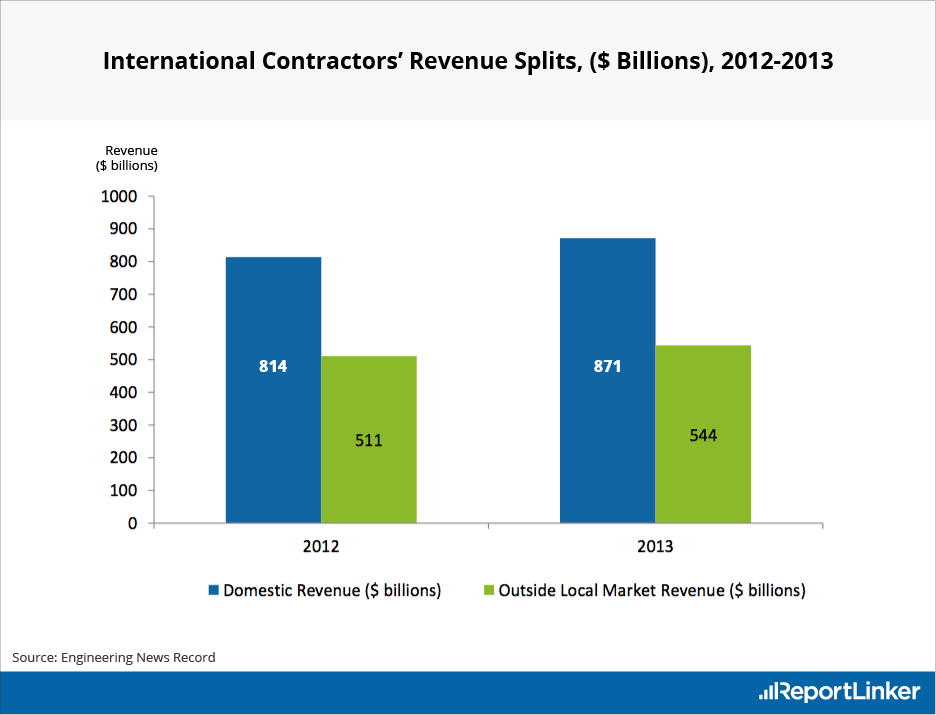 Chinese firms were the major players on a global level. Of the top ten contractors globally, five were from China - China State Construction Engineering Corp, China Railway Construction Corp. Ltd, China Railway Group Ltd, China Communications Construction Group Ltd and China Metallurgical Group Corp. Given the growing infrastructure needs in the country due to its growth and high internal migration rate, these contractors are expected to remain the global top players in the coming years. Although the real estate market is dominated by large, important players, many specialty contractors (which can vary from one country to another) are necessary for the industry to work properly.
Construction and Building Market Forecast
The global construction and building industry is forecast to rise from $7.5 trillion in 2013 to $12.7 trillion by 2020, at a CAGR of 11%.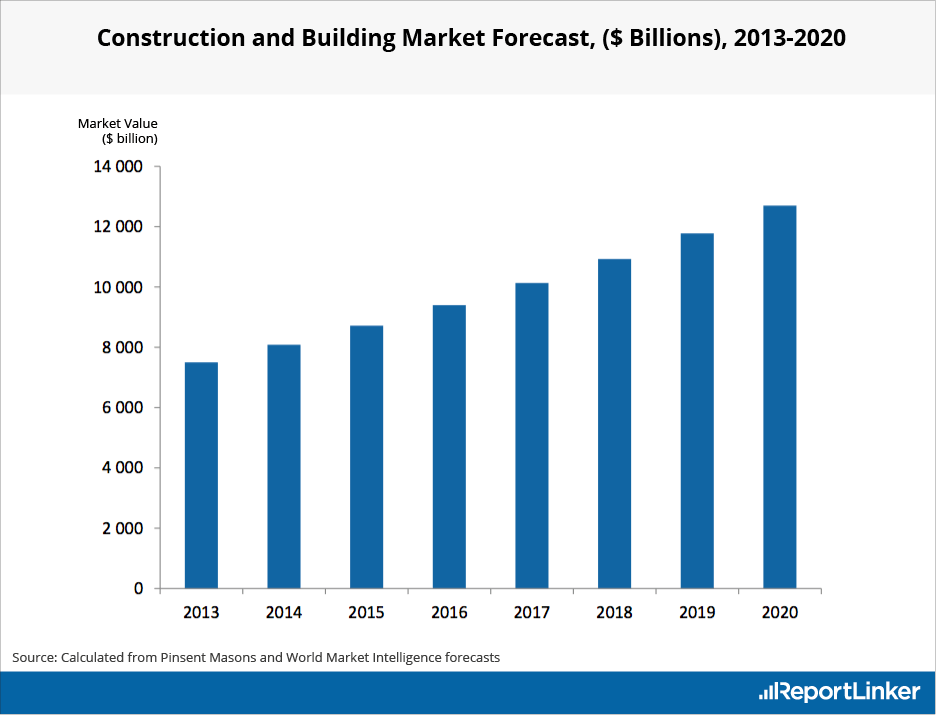 Key Trends and Strategies to Generate Growth in the Construction and Building Industry
Three key trends are set to shape the building and engeneering industry going forward.
Rapid Expansion of the Urban Population
The global construction and building market is expected to see significant growth due to the increasing number of megacities.
The world's urban population is expected to increase by 75% from 3.6 billion in 2010 to reach 6.3 billion in 2050. Also, by 2025 the number of 'megacities' will increase from 23 to 37, of which 12 will be in emerging markets. Masdar City in Abu Dhabi, Jaypee Sports City in India and Sejong City in South Korea are just a few examples of entirely new cities.
Increasing infrastructure demand, the rising cost of prime urban real estate per square meter and the new interest for the home improvement sector will mean that the construction market will almost double by 2025.
To generate growth, construction companies need to expand their local knowledge to improve their positioning in these emerging markets. Local partners will help control operating costs by allowing firms to outsource non-core functions and so scale up. Global networks can be expanded by accessing local markets through joint ventures, mergers and acquisitions.
3D Printing to Become a Mainstream Construction Tool
New building techniques and construction machinery using 3D printing technology will be adopted going forward. 3D printing will allow flexible construction of small commercial buildings and private homes in about 20 hours, with plumbing and electrical facilities incorporated in one continuous build. For instance, Dutch architect Janjaap Ruijssenaars's 3D-printed building was scheduled to be built in 2014, according to TechCrunch. Adopting new technology helps contractors to enhance their services, thereby increasing contract value and boosting owners' confidence.
Contractors must increase their use of new technologies in order to differentiate their service offering in this competitive market.
Green Building Technologies are Gaining Popularity
Construction projects are becoming more focused on green building technologies. According to McGraw-Hill the majority of construction companies expect most of their building projects to be green by 2015 (i.e using only eco-friendly buidling material and green heating, electricity and cooling systems). The key driver behind green construction will be client demand. It is likely that in the future clients and regulations will require higher levels of environmental standards in construction projects.
Construction companies should develop their capabilities in these areas in order to benefit from this trend.
Leading Industry Associations