Global Automotive Industry Overview
The auto industry has a large network of organizations and companies, which are focused on all of these – manufacturing, developing, innovations, supplying, distributing and many other operation groups you can imagine. Being so vast and intensively advancing, the automotive industry is a large scale to handle and get educated quickly. It is a leading driver of global economic growth.
No matter what type of reader you are – just an admirer of automobiles and luxury vehicles, or a serious player in the vehicle sector, there are many facts, data and information you need to learn and then follow. Indeed, all the data and facts aren't actually constant, but dynamically changed through the years and even day by day.
Global motor vehicle sales reached about 85 million units in 2013, an increase of 4% compared to 2012, according to the Organisation Internationale des Constructeurs d'Automobiles (OICA). Among all the industry's categories of vehicle, passenger cars were the largest segment, contributing 63 million units in 2013; commercial vehicle sales were 22 million units in 2013, according to OICA. The Automotive Parts and Supplies Industry (including the automotive aftermarket industry) is also an important part of the global automotive area. For instance, the tire industry is considered a challenging "sub-market" to operate in.

Automobile Industry Key Markets
The automotive reports section through varied country reports shows us that China and Japan were the top countries for motor vehicle production in 2013.
These premium publications will continuously release reviews that will help you understand the car economic environment with top automotive statistics, competition outlook and technological evolution.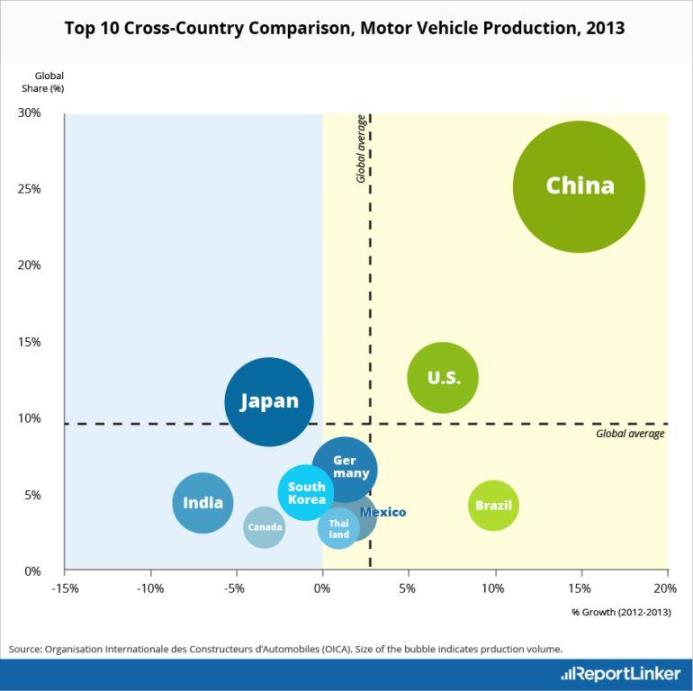 China's motor vehicle production grew by 15% in 2013 to reach 22.1 million units, according to OICA, while Japan's production fell. Volume in the U.S. grew by 7% to reach 16 million units in 2013. By 2014, 30% of automobile production is forecast to come from the BRIC countries, according to the Boston Consulting Group. Get to know the latest automotive manufacturers market share in India, Brazil, China & Russia by suscribing to Reportlinker.
Key Automotive Market Players
Speaking of companies, we are entirely focused on the largest key players in the field. For this purpose, we plan to show you all the current and hot news, which are connected with such companies. Thanks to our different automotive company reports, we found out that Volkswagen AG was the top automotive company in 2013 with a 16% share of the global market. Toyota was the second largest company with a 12% share.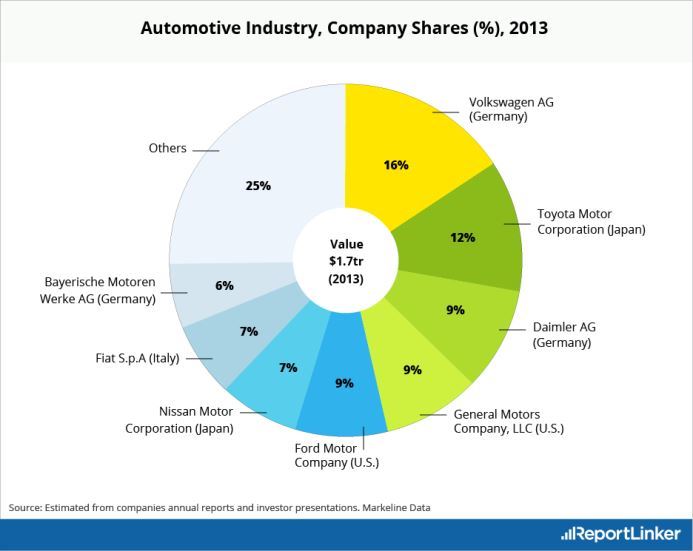 Volkswagen, based in Germany, is a provider of passenger and commercial vehicles, motorcycles, engines, and turbo machinery. It sells passenger cars under the marques Audi, Bentley, Bugatti, Lamborghini, Porsche, SEAT, Škoda and Volkswagen. Western Europe and Asia-Pacific were the two largest regions for Volkswagen with 3.6 million units each in 2013 according to the company.
Toyota, based in Japan, manufactured more than 10 million vehicles in 2012, according to OICA. It produces vehicles under 5 brands, including the Toyota brand, Hino, Lexus, Ranz, and Scion. It was one of the first companies to mass-produce hybrid gasoline-electric vehicles.
Automobile Industry Sales Forecast
Overall Reportlinker focuses on three main categories of car statistics: production, sales and trade. They are a part of the vast and dynamic world of cars, trucks, as well as leading companies and their manufacturing, selling, and trading strategies. Global automotive sales are projected to increase from 85 million units in 2013 to 100 million units by 2018, according to IHS. The market value is expected to increase from $1.7 trillion to $2.3 trillion during the same period.