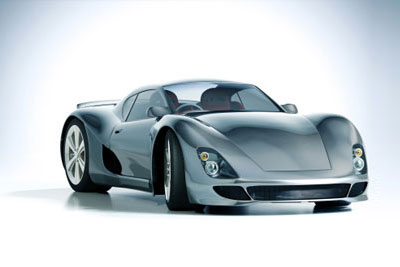 Global Automotive Industry Overview
The auto industry has a large network of organizations and companies, which are focused on all of these – manufacturing, developing, innovations, supplying, distributing and many other operation groups you can imagine. Being so vast and intensively advancing, the automotive industry is a large scale to handle and get educated quickly. It is a leading driver of global economic growth.
No matter what type of reader you are – just an admirer of automobiles and luxury vehicles, or a serious player in the vehicle sector, there are many facts, data and information you need to learn and then follow. Indeed, all the data and facts aren't actually constant, but dynamically changed through the years and even day by day.
Global motor vehicle sales reached about 85 million units in 2013, an increase of 4% compared to 2012, according to the Organisation Internationale des Constructeurs d'Automobiles (OICA). Among all the industry's categories of vehicle, passenger cars were the largest segment, contributing 63 million units in 2013; commercial vehicle sales were 22 million units in 2013, according to OICA. The Automotive Parts and Supplies Industry (including the automotive aftermarket industry) is also an important part of the global automotive area. For instance, the tire industry is considered a challenging "sub-market" to operate in.

Automobile Key Markets
The automotive reports section through varied country reports shows us that China and Japan were the top countries for motor vehicle production in 2013.
These premium publications will continuously release reviews that will help you understand the car economic environment with top automotive statistics, competition outlook and technological evolution.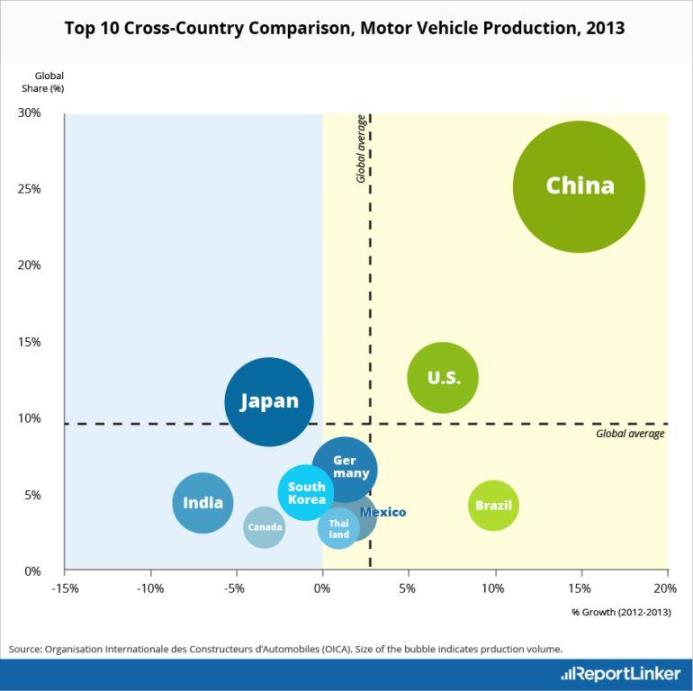 China's motor vehicle production grew by 15% in 2013 to reach 22.1 million units, according to OICA, while Japan's production fell. Volume in the U.S. grew by 7% to reach 16 million units in 2013. By 2014, 30% of automobile production is forecast to come from the BRIC countries, according to the Boston Consulting Group. Get to know the latest automotive manufacturers market share in India, Brazil, China & Russia by suscribing to Reportlinker.
Automotive Key Players
Speaking of companies, we are entirely focused on the largest key players in the field. For this purpose, we plan to show you all the current and hot news, which are connected with such companies. Thanks to our different automotive company reports, we found out that Volkswagen AG was the top automotive company in 2013 with a 16% share of the global market. Toyota was the second largest company with a 12% share.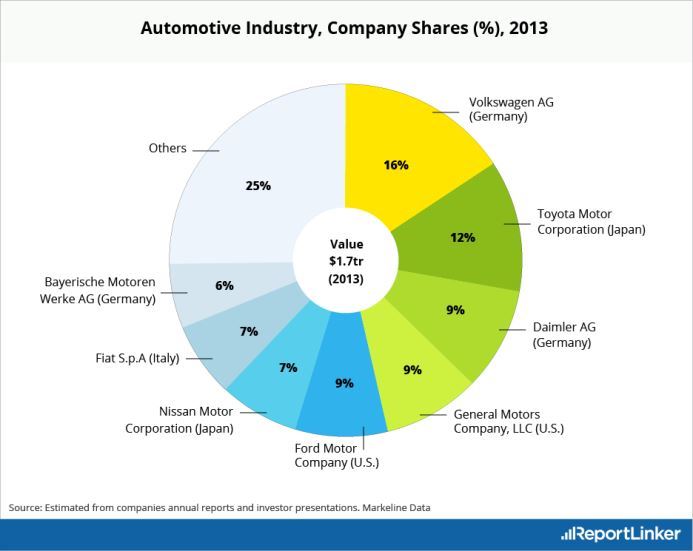 Volkswagen, based in Germany, is a provider of passenger and commercial vehicles, motorcycles, engines, and turbo machinery. It sells passenger cars under the marques Audi, Bentley, Bugatti, Lamborghini, Porsche, SEAT, Škoda and Volkswagen. Western Europe and Asia-Pacific were the two largest regions for Volkswagen with 3.6 million units each in 2013 according to the company.
Toyota, based in Japan, manufactured more than 10 million vehicles in 2012, according to OICA. It produces vehicles under 5 brands, including the Toyota brand, Hino, Lexus, Ranz, and Scion. It was one of the first companies to mass-produce hybrid gasoline-electric vehicles.
Automotive Sales Forecast
Overall Reportlinker focuses on three main categories of car statistics: production, sales and trade. They are a part of the vast and dynamic world of cars, trucks, as well as leading companies and their manufacturing, selling, and trading strategies. Global automotive sales are projected to increase from 85 million units in 2013 to 100 million units by 2018, according to IHS. The market value is expected to increase from $1.7 trillion to $2.3 trillion during the same period.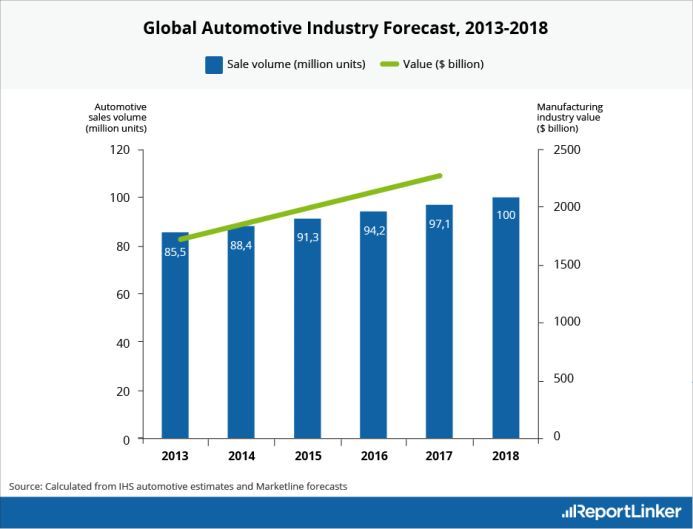 The U.S. automotive market will be driven by demand for lighter cars and vehicles "Made in America" like the Toyota Camry or the Chevrolet Traverse. In Western Europe, replacement of old cars and a rebound in small car sales will drive growth. The Asian market is expected to show variations. India is expected to see good growth under the new Modi administration. In China, however, there is a danger that the end of the credit boom might lead to a slow-down in car sales. Japan is already experiencing a decline due to a 3% consumption-tax hike.
The future of the automotive market is also strongly influenced by different variables such as the evolution of technology that should improve overall road safety (e.g. smart headlights to prevent collision), the economic situation of auto-retailers responsible for a large par of worldwide sales and the new trends in both public and private road transportation systems.
Key Trends and Strategies to Generate Growth in the Automotive Industry
One of the numerous key trends in the automotive industry is the development of networked and smart cars. By 2020, about 25% of cars will be connected according to McKinsey. According to Machina, connected services to and from vehicles will reach a value of $400 billion by 2022. Automotive companies should invest in network technologies and develop partnerships with telecommunications companies in order to exploit this trend.
Automotive services will also be a key element in the automotive area development.
Emerging markets continue to offer lower development and manufacturing costs to automotive manufacturers. Wage cost account for 3% to 15% of revenues for Indian manufacturers as opposed to 20% to 40% of revenues for U.S. manufacturers, according to the Automotive Component Manufacturers Association of India (ACMA). Companies should outsource production of auto parts to these emerging nations to reduce manufacturing costs. General Motors plans to source $1 billion worth of auto parts from India over the next two years.
High fuel prices are one of the major challenges in the automotive industry (especially after studies have shown that some cars burn oil excessively). This is driving demand for low-emission cars. About 76% of automakers believe that internal combustion engine downsizing and optimization is an effective way to lower fuel usage, according to KPMG. Automotive companies should continue to develop more fuel-efficient engines to decrease fuel costs for customers and reduce pollution.
Environmental concerns about the impact of carbon fuels on the climate changes are driving the development of EV (Electric Vehicles), hybrid cars and fuel cell technology. Toyota plans to introduce a fuel cell hybrid vehicle concept for its Prius model in 2015, while Honda (whose CEO tries to restore the company's reputation after another vehicle recall the same year) already has a model in the marketplace. Implementation of LED lights is also key for energy savings. Automotive manufacturers need to move fast to gain a place in this expanding market segment.
Leading Industry Associations