Global Energy & Environment Industry Analysis
With world population set to hit 9 billion by 2040, the global energy market will see demand grow by more than half its present level by 2035, reports the US Energy Information Administration. The need for environmental protection is rising hand in hand with energy demand.
Because energy production has such a direct impact on the environment, the two markets remain tightly interwoven. Legislative moves are forcing traditional energy sectors to adapt in order to respect environmental issues, and international agreements are encouraging worldwide collaboration to reduce pollution. Under the Kyoto Protocol, more than 35 countries and the EU have committed to respecting targets for greenhouse gas (GHG) emissions, weighted more heavily towards developed countries due to the disproportionate contribution industrialization in these countries has made to GHG emissions so far.
Governments are providing stronger backing for clean fuel through programs such as the National Energy Technology Laboratory, elaborated by the US Department of Energy (DOE).
Key Energy Market Segments
Electricity: New electricity generation is expected to soar by nearly 85% to almost 26 trillion KWh in 2020, and 35 trillion kWh 15 years later, according to the US Energy Information Administration.
Coal: Specific energy sources are forced to change their methods to reduce the adverse effects of climate change. The coal industry, which produces over 40% of the world's electricity and is responsible for the release of 12 billion tons of CO2 each year, is adapting to environmental concerns through the development of "clean coal" technologies. The coal industry represents 40% of CO2 produced in the generation and consumption of energy. The industry has already reduced CO2 emissions by 40% between the last century and today.
Renewable Energy: Governments are increasingly turning to renewable energy to meet a greater portion of the world's energy demand while limiting adverse climate change. Renewable energy consumption is estimated to continue growing at 3% through 2035.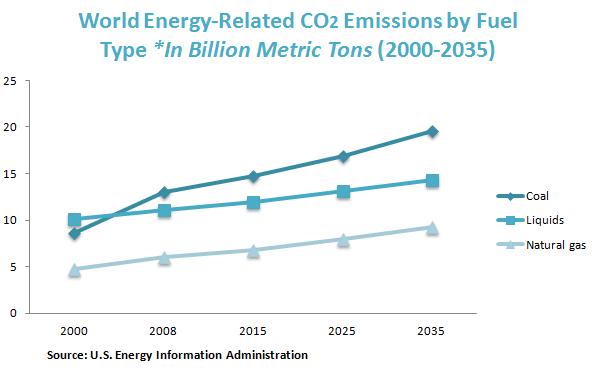 Environmental Services
Environmental awareness is playing an increasingly significant role in attitudes toward energy and consumption in general. Apart from government initiatives and international agreements to limit climate change, individual consumers are also driving certain market segments through increased demand. Green packaging demand growth is led by demand for recycled content packaging in particular.
The demand for e-waste management is rising as the array of electronic products on the market increases and consumers opt to change electronic products such as mobile phones and laptop computers more frequently, generating rising levels of waste.
Energy & Environment Market Outlook
The United Nations has called for a 70% reduction in GHG emissions over the next three decades. General awareness regarding the climate crisis is being fuelled by national initiatives, international cooperation between governments, and mainstream projects such Davis Guggenheim's film, entitled An Inconvenient Truth, about Al Gore's environmental campaigning. Both legislation enforcing clean energy practices and green consumerism are driving demand for alternatives to traditional energy consumption in an effort to avert climate disaster.
An increasingly climate-conscious global population is favoring renewable energy, recycling and increased safety measures concerning nuclear energy and fossil fuels. Technological advances, such as carbon capture systems and cost-effective clean energy solutions, will be a driving force to market growth moving forward. Demand for waste treatment is rising steadily in developing countries where urbanization is generating harmful waste. As water becomes an increasingly scarce commodity, the global water treatment market will continue showing substantial growth.