Global Coal Industry Analysis
Coal meets almost 30% of the world's primary energy demand and provides more than 40% of global electricity, according to the World Coal Association (WCA).
Coal, a fossil fuel derived from waterbed vegetation, is distributed unevenly worldwide with the greatest reserves in Russia, the US, India and China. There are more than 845 billion tonnes of coal throughout the world, according to WCA estimates. Currently, the earth has a great enough coal supply to last nearly 120 years. Over the next two decades, the world's consumption of coal will increase almost 55%. Environmental concern over coal as an energy source is being mitigated by the fact that CO2 emissions from coal plants have been slashed 40% this century compared with the last century.
Environmental Impact of the Coal Industry
Burning coal currently releases 12 billion tonnes of CO2 on an annual basis, reports the World Nuclear Association. "Clean coal" technologies are being developed to make coal a safer energy source, including a system that produces hydrogen from water, buries CO2 produced and burns hydrogen.
Under the US Department of Energy's Clean Coal Power Initiative, new coal technology projects benefit from co-financing to reduce power plant production of nitrogen, mercury and sulphur pollutants. Over 2003-2004, the US DOE chose 12 projects, of which four have been completed. In 2009, the program received $800 million in funding and five projects were chosen in the third round of proposals for the clean coal initiative.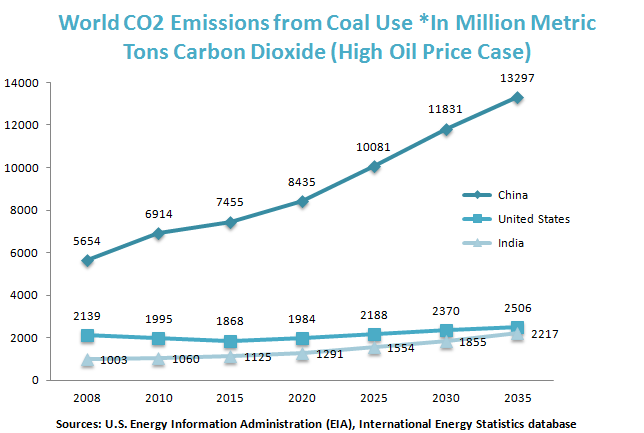 Coal Industry Key Regional Market Share
The world's leading producer of hard coal is China, followed by the US, India, Australia, South Africa, Russia, Indonesia, Kazakhstan, Poland and Colombia. Non-OECD countries spurred production at almost 8.5%. Non-OECD production represented 75% growth, with Indonesia in the top spot. Asia-Pacific represents almost 72% of the global coal market worth.
The world's heaviest coal consumers are China and the US. India is the third-biggest consumer followed by Russia, Japan, South Africa, Germany, Korea and Poland.

Key Coal Companies
Top companies leading the global coal market include China Shenhua Energy, China Coal Energy, Consol Energy, Peabody Energy Corp, Cameco Corp, Yanzhou Coal Mining, Adaro Energy Tbk and Patriot Coal Corporation.
China Shenhua Energy Company is a coal producer and seller. China Coal Energy's main offering is thermal coal and coaking coal.