Global Healthcare Industry Overview
Globally, government spending contributed 55% of total healthcare expenditure in 2013, while private spending, largely funded through insurance, accounted for the remaining 45%. However, the range is wide: in Europe government spending accounted for 74% of total expenditure in 2013, whereas in South East Asia for only 38%, according to WHO.
Healthcare industry growth was driven by increased spending in both general and specialty medicine to treat chronic pathologies, including cancer, diabetes, and hypertension. These now account for 75% of diagnosed illness across the world.
Healthcare includes all the services, products, equipment and facilities involved in the prevention, treatment, and management of illness and the preservation of mental and physical well-being. The whole industry cover varied sectors such as the business of alternative medecine, the organization of health services and medical devices, organ supplies and, more indirectly veterinarian services. Thanks to broadband and telecom technologies, the e-healthcare sector is also gaining momentum.
Healthcare Key Markets
The U.S. has by far the highest healthcare expenditure. Europe, too, is a major market, with the five largest countries, Germany, France, the U.K., Spain, and Italy.
Healthcare Sector Key Players
The key non-government players in the healthcare sector are the insurance companies. Healthcare providers such as hospitals, acute care centers and primary care centers are mainly small scale, though some chains are growing. The largest health insurers in the world are in the U.S.: UnitedHealth Group Inc and Anthem Inc. (former WellPoint) are the two largest insurance providers.
UnitedHealth Group provides insurance and managed care services. It offers its members access to healthcare services through a network of doctors, hospitals, clinics and medical equipment vendors. It splits its services between corporate and personal schemes, Medicare and Medicaid (state provided health programs), and military and veteran schemes. It has more than 85 million customers across the U.S. and 125 other countries, including nearly 5 million in Brazil.
Anthem (previously WellPoint) is a provider of insurance and managed care. It offers its services to national and local companies, private individuals, as part of government-sponsored Medicare and Medicaid programs, and federal employees.
Healthcare Industry Expenditure Forecast
Global expenditure on healthcare is expected to grow to $9.5 trillion in 2018 from $7.6 trillion in 2013 (at a CAGR of 4%), according to forecasts based on WHO data.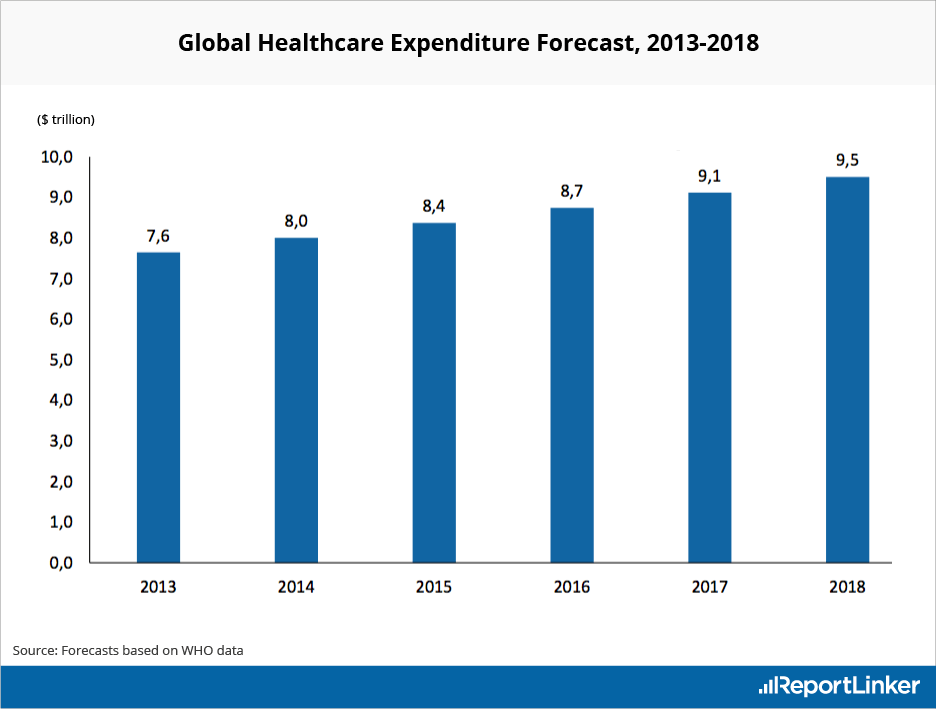 The healthcare industry will be driven by increases in the elderly population in need of medical supplies.