Global Orthopedic Industry
The global orthopedic sector is a dynamic component of the medical device industry, which can be broadly divided in two main categories: orthopedic devices, and orthotics and prosthetics.
Orthopedic devices include joint reconstruction materials and biomaterials used in the reduction of fracture fragments, bone manipulation and joint replacement. Reduction can be non invasive, as is the case with external splints and traction, or can involve surgery to implant and replace artificial joints. In comparison, orthotics and prosthetics involve evaluating, fabricating and custom fitting braces and artificial limbs.
Musculoskeletal problems are among the most frequent reasons for medical consultation, accounting for more than 130 million visits per year says the American Academy of Orthopedic Surgeons. One in four people in the US suffer from musculoskeletal impairment, which brings the annual cost of musculoskeletal disorders in the US to $180 billion.
Apart from bone, spinal, joint, ligament, tendon and muscular injury, orthopedics is also used in the treatment of osteoporosis and arthritis.
Key Market Segments
Overall, the orthopedic market felt the effects of the economic crisis, with cuts in medical-care spending and patients more reluctant to undergo optional surgeries due to the lengthy recovery time out of work.
Highly competitive and at maturity with a single-digit growth rate, the global orthopedic device market is primarily driven by: 1) artificial joints, with a worth forecast of almost $17.5 billion by 2012; and 2) orthobiologics, estimated to reach $7.5 billion by 2012 and $9.6 billion by 2016, according to Global Markets Direct. Segment growth is also boosted by increases in knee implants, and knee and hip replacements.
According to research from Global Industry Analysts, the world orthopedic prosthetics market is expected to hit $19.4 billion by 2015, with growth driven by rising degenerative joint diseases (osteoporosis and arthritis), an aging global population and the desire to keep up an active lifestyle.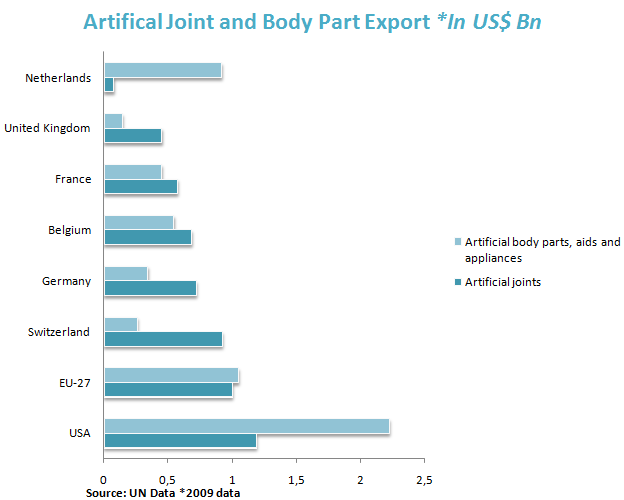 Regional Market Share
The orthopedic device market is being driven by rising cases of osteoporosis, which the International Osteoporosis Foundation (IOF) reports to affect 75 million people in Europe, the US and Japan. This number falls in line with current orthopedic device market shares that put the US in first place, followed by Japan and Germany.
The foundation forecasts a 310% increase in hip fractures in men and a 240% increase in hip fractures in women worldwide by 2050. Similarly, arthritis is set to continue driving the orthopedic devices market, with 22% of 50 million adults in the US suffering from the condition, a figure that is predicted to reach 67 million by 2030.
Emerging countries - such as China, India and Brazil - are seeing strong growth for orthopedic devices, with revenue expected to reach $2.9 billion in 2016 for a compounded annual growth rate of 8%, according to GBI Research.
Industry Leaders
Zimmer Holdings is a key player on the orthopedic market, with its Trabecular Metal representing the most-bonelike substance available on the market. This material is used in the manufacturing of Zimmer's orthopedic reconstructive implants. Year-on-year sales for 2011 were on the rise, with 5.3% growth in sales in the EU, Middle East and Africa, and a 6.2% increase in Asia-Pacific.
Headquartered in Michigan, Stryker Corporation ranks 323 on Fortune magazine's top 500 US company list and offers orthopedic devices, including joint replacement systems for hips, knees, shoulders and elbows. Simplex P SpeedSet, used in prosthetic fixation and in the treatment of pathological fractures, is one of its star products; it was launched Simplex P with Tobramycin, America's first cleared antibiotic-impregnated bone cement.
DePuy Orthopedics is a leader in the orthopedic device market, supplying joint replacement products and trauma and surgical solutions. The first commercial orthopedics company in the US, DePuy is a member of the Johnson & Johnson Corporation and it offers over 200 products, including Pinnacle hip solutions, the Sigma Knee portfolio and the Global shoulder range. It is well known for its True Glide technology, which limits friction and is used in hip replacements.