Global Pharmaceutical Industry Overview
The pharmaceutical industry consists of companies involved in the research, development and marketing of drugs and biologics.
The pharmaceutical market was driven by a rise in healthcare spending and high growth in both emerging markets and the biologics segment. Cancer is the largest segment. This was closely followed by the pain and diabetes segments with shares of 6% and 5% respectively, according to IMS.
Key Pharmaceutical International Markets
North America is the largest market, with revenues exceeding $340 billion.
This was followed by Europe with revenues of $224 billion according to IMS.
Emerging countries in Asia and Latin America are forecast to grow rapidly. Increase in spending in these countries will be driven by rising incidence of disease, favorable government policies and improving healthcare infrastructure (and the multiplication of drug stores and pharmacies in large cities.
Pharmaceutical Industry Key Players
Novartis is the pharmaceutical market leader (thanks to a state-of-the-art drug discovery and development department) with revenues of $51 billion and a market share of 5%. Primary contributors to its sales were the drugs Gilenya and Affinitor. Pfizer is close behind Novartis with a 4% share of the global market according to IMS.
The top ten players are forecast to collectively lose share from 35% in 2013 to 30% in 2017, according to IMS. Patent expiries over the next few years will eat into the revenues of most companies during this period.
Sanofi potential loss due to patent expiries is estimated to reach up to $8.1 billion. The company is then followed by Novartis, Roche, Astra-Zeneca and Eli Lilly with respectively potential losses of 7.7, 7.2, 6.7 and 6 billion dollars.
Pharmaceutical Market Sales Forecast
Pharmaceutical industry trends show that the global market is set to show steady growth in the next five years at a CAGR of 4-5%. Innovative on-prescritpion drugs and over-the-counter drugs entering the market and biologics such as targeted therapies for cancer will be key in driving growth.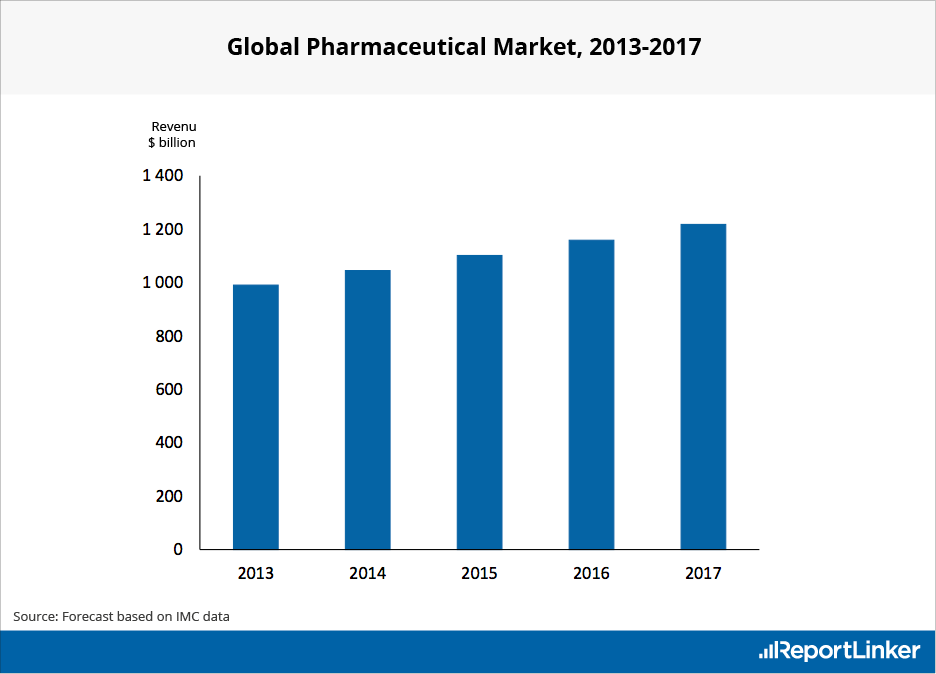 Key Trends and Strategies for Growth in the Pharmaceutical Market
Four trends are shaping pharmaceutical markets.
New Government Policies are Expanding Healthcare Coverage
Expanded patient coverage is a key trend in the pharmaceutical market. China has increased its healthcare spending to $116 billion as part of its latest 12 year plan. India has created a $5 billion policy aimed at providing health services to government hospitals and clinics, especially in the rural areas. The U.S. Affordable Care Act and the U.K. Health and Social Care Act also create opportunities.
The differing nature of the policies means pharmaceutical companies must adapt their marketing strategies for each region or country. A 'one size fits all' strategy will no longer work.
Emerging Pharmaceutical Markets are Improving Healthcare Provision
Improving healthcare provision, increased incidence of chronic diseases, the appearance of safer drug delivery systems and medical tourism are driving pharmaceutical industries in emerging markets. Branded drugs penetration is about 25% (due to the importance of generic drugs) as compared to about 75% in developed economies, according to IMS, giving the potential for expansion in the branded sector.
Pharmaceuticals companies should focus on these emerging markets.