Global Prescription Drug Market
The worldwide market for prescription drugs (which represent a large amount of the global pharmaceutical industry) is forecast to reach almost $900 billion by 2015, according to research from Global Industry Analysts.
The prescription drug industry has been affected by the economic crisis in so far as health cutbacks have resulted in pricing pressure. Expiring patents and the subsequent availability of cheaper generic alternatives add further pressure.
The market involves the sale of medication that necessitates a prescription from a medical professional. These medicines require a license and are regulated by law. They are separate from over-the-counter drugs, which do not require a prescription.
Market Challenges
Drug safety and efficacy being of utmost priority to the industry, careful attention to quality and testing along with safety standard surveillance are ongoing efforts required to meet the challenges of changing legislations and to avoid penalties from regulatory bodies as well as the threat of lawsuits from patients.
Another industry issue to manage is the long development time required for prescription drugs, for which clinical trials for new drugs can last up to 11 years. This is followed by regulatory body review and approval, which can add another two years before the drug can be launched on the market.
Safety is also a major concern in the marketing and sale of prescription drugs, with ongoing risk management equally having an impact. The US Federal Drug Administration (FDA)'s Risk Evaluation and Mitigation Strategy addresses the abuse of opioid drugs used for pain management and available by prescription. The FDA scheme promotes responsible prescriptions and use of opioid painkillers, including oxycodone, morphine and methadone. With the US government underlining the widespread abuse of prescription medication and associated deaths, the FDA's strategy attempts to clamp down on the over-prescription of opioids to prevent the surplus from being sold through illegal routes. The FDA's initiative includes a push for manufacturers of opioid painkillers to list information on the use, disposal and prescription of their products for medical professionals.
Leading Prescription Drugs
The top spot in the global prescription drugs market is held by oncology drugs for the treatment of cancer, followed by respiratory agents such as anti-inflammatory drugs, lung fluid replacement, decongestants, biologics and inhaled corticosteroids.
Lipid regulators are in third place but are likely to see a fall in growth as the segment's top drug, Pfizer's cholesterol treatment drug Lipitor, along with others in this category, is to see its patent expire paving the way for generic drugs.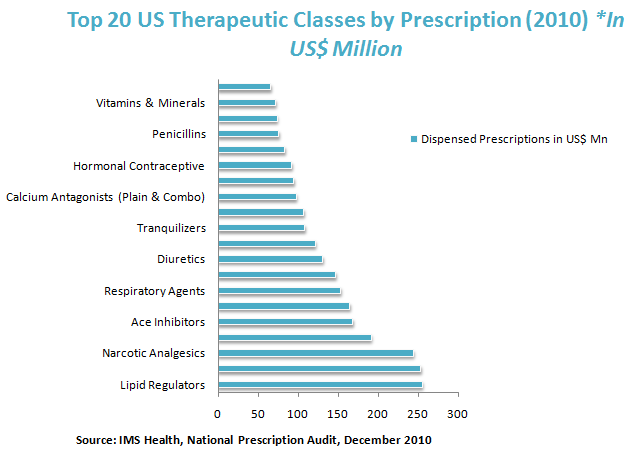 Regional Market Share
The worldwide market is slowing in some regions but showing greater growth in others such as the Asia-Pacific area where growth to 2015 is forecast to be more dynamic than in current leading regions like the US, according to Global Industry Analysts.
Today, the number one region for prescription drugs is the US. The US prescription drug market is characterized by fragmentation with no company outside of the top five enjoying revenue from sales of more than 5%.
Global market weight is likely to reposition itself to see greater growth in developing markets, with India and China leading the way with an expected 17% annual growth through 2014, Bloomberg reports.