Global Therapy Industry
The global therapy industry (one large revenue center of the pharma industry) involves treatments intended to protect from, cure or manage specific illnesses. The treatment of each therapeutic area and its specific conditions varies widely.
Therapy is usually decided on once the patient has been diagnosed with a specific medical condition or disease, though therapies may also be preventive measures. Therapies applied following diagnosis are either abortive or supportive. The former is a curative measure that seeks to inhibit development of the condition, while the latter relieves the patient's suffering due to the symptoms of the disease without treating the condition itself.
Preventive therapies are used to safeguard people against disease; for example, vaccinations are used to prevent infections such as polio, smallpox and measles.
Market Trends
The combined market for medicines and therapies (such as oncology) used in the treatment of disease is witnessing a slower rate of spending: in the five years up to 2010, spending on medicines grew by more than 6% yearly. However, in the five years up to 2015, the rate of growth is slowing to between 3% and 6%. Global spending on medicine and therapy in 2015 is forecast to reach $1.1 trillion, reports the IMS Institute for Healthcare and Informatics.
The market is to see increased spending on generic drugs, hitting almost 40% growth in 2015 or nearly doubling in a decade. Spending on brand-name medicines should drop by $120 billion in the five-year period ending in 2015.
Increased prevalence of type 2 diabetes, particularly in emerging markets such as China, Brazil and India, will see global spending on the disease rise 4%-7% through 2015, with oral antidiabetics increasingly favored. Spending on therapeutic medicine to treat asthma and chronic obstructive lung disease will drop from 9% in the five-year period ending in 2010 to 2%-5% from 2010 to 2015.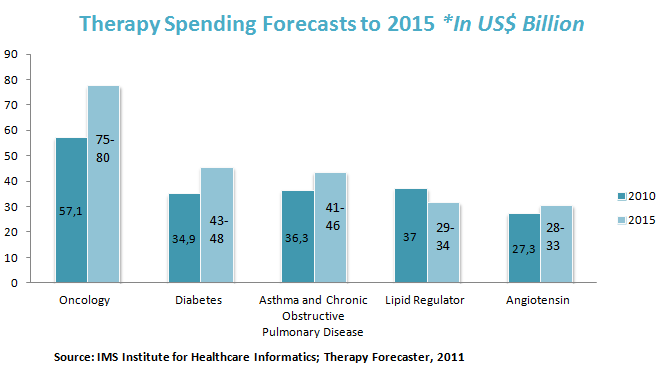 Key Market Segments
According to a report by the IMS Institute for Healthcare Informatics, oncology will continue to hold the top spot in the therapies industry, with forecast revenue between $75 billion and $80 billion in 2015, representing a jump of more than $20 billion in a five-year period. Lipid regulators will fall from second to fourth place, reaching between $29 billion and $34 billion in the same period. Meanwhile, anti-diabetics will rise to second place at between $43 billion and $48 billion.
Respiratory agents are expected to remain the third-biggest seller, with a $5 billion to $10 billion increase on 2010 sales. Drugs to treat hypertension are forecast to rise to fifth place with an up to $6.5 billion increase in revenue. Overall, auto-immune drugs should see a substantial jump to reach between $27 billion and $32 billion by 2015.
HIV antivirals are expected to jump from tenth to seventh place with sales of between $20 billion and $24 billion by 2015. A substantial drop in market share is expected for antidepressants, from more than $20 billion in 2010 to between $13 billion and $16 billion in 2015. Treatments for multiple sclerosis should rise several places in the same period, marking revenue from under $10 billion to between $12 billion and $15 billion. Antipsychotics are forecast to see a $5 billion drop to $20 billion in 2015.
Therapy segments expected to drop out of the top-20 list include vitamins and minerals, antirheumatics, cephalosporins, combs (antibiotics) and vaccines. Categories expected to appear in the top 20 include treatments for glaucoma, Alzheimer's, osteoporosis and attention deficit hyperactivity disorder.
Categories expected to show less substantial fluctuation include narcotic analgesics, antiepileptics and erythropoietics.