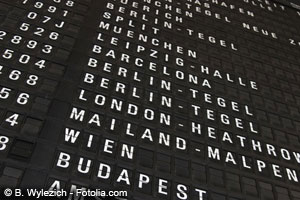 The worldwide airport services industry exceeded $102 billion in 2010, having recorded 3% annual growth for the four preceding years, reports MarketLine, and industry volumes recorded almost 2% increase over the same period. Entry and exit costs are high in this market and it is nationally concentrated with a few large companies dominating.

The US leads the global airport industry, with the highest number of airports, reports Xerfi. Most of the world's airports are located within the EU, North America and Asia. The strongest performance in terms of passenger traffic growth is being witnessed in developing countries.

Airports or airport operating outfits are public or semi-public for the most part, though the industry continues to witness an increasing degree of privatization, with greater emphasis on business.



Airport Retail

Global airport retailing recorded a sharp fall in sales a few years ago, but has been witnessing recovery more recently. Growth has been fueled mainly by passenger volumes, rising steeply in developing markets, without a spend-per-passenger increase. Verdict predicts the global airport retailing market will witness almost 45% growth in the five-year period ending 2015. Growth will mainly come from emerging countries, with Asia Pacific in particular set to exceed 76% growth. The Middle East and Africa are expected to record around 40% growth.

Fashion and accessories represents the leading product segment of the global airport retail industry, accounting for around a quarter of global airport sales in 2010. This product category has witnessed strong growth in recent years, fueled by demand for luxury brands in Asia Pacific, where 46% of airport fashion and beauty sales come from luxury brand sales.

An advantage for airport retailers is the fact that passengers are obliged to go through sales points on their way to their departure gate. Consumers often have free time to spend before their flights, leading to browsing. Even with less time, they can still browse due to flight information screens placed in these shops, informing them of flight delays and time that remains before their flight is called.

Nearly half of EU air passengers planned to make duty-free airport retail store purchases over a six-month period, reports Canadean, and close to 55% of passengers made impulse buys over the same period. The three leading product segments occupying airport retail space are food, beverages and tobacco; followed by perfumes, cosmetics and personal care; and lastly apparel, accessories and luxury goods. Customers spend close to 25 minutes in duty-free airport retail outlets on average, whereas the average time spent at duty paid outlets is less than 20 minutes.



Regional Market Share

India's government has been providing strong support for private participants, fueling expansion and improvisation in the country's airport infrastructure, reports RNCOS. Increased passenger travel and improving economic activity have created a greater need for airport infrastructure. Government reforms are favoring investment in India's airport infrastructure segment. The long-term outlook for private players in the nation's airport infrastructure category is positive, with investment set to rise, and Greenfield projects especially expected to witness increased investment. International cargo traffic should witness 10% yearly growth through 2015.

Obstacles to growth in India's airport sector include insufficient parking, single runways and cargo handling, along with inadequate customs clearance capabilities, which all lead to airport delays. The Airports Authority of India is therefore focusing its efforts on bringing cargo handling facilities up-to-date to cut down on congestion. Private interest in the sector is strong, with the 11th Plan projections pointing to almost $5 billion of private investment, accounting for almost 65% of overall airport infrastructure investment.

China's aviation sector has bounced back from the global recession quicker than other countries, according to a report from analysts at the firm Research In China. China Southern Airlines, China Eastern Airlines and Air China International were the three top-ranking airlines in terms of fleet scale and average monthly passenger traffic. China Southern Airlines dominates, with the highest number of aircraft and top yearly passenger traffic in the country's aviation sector. China's passenger traffic figures were the highest in Asia and ranked third in the world in 2010.



Industry Leaders

Leading players currently operating in the global airport industry include Beijing Capital, Paris Charles De Gaulle, London Heathrow, Munich, New Tokyo International Airport, Madrid Barajas, Hartsfield-Atlanta Jackson, Frankfurt, and Dubai International.



Outlook

In the future, the global airport industry will continue to prioritize aviation security worldwide. According to research from Global Industry Analysts, growth in the global aviation security industry is strong, fueled by rising security concerns and increasing air traffic.

New airports under construction in the EU and Asia-Pacific will boost demand for aviation security. Meanwhile, technology will continue playing a vital role, with aviation security equipment becoming more effective, lighter, smaller and less costly.



Leading Industry Association

• International Air Transport Association www.iata.org
• International Association of Airport Executives www.aaae.org