healthcare logistics Industry, January 2018 Market Reports from Top Publishers
You might be interested in: Data Analytics, Software, RFID, Big Data, Cloud Computing, Mobile Payment, Business Intelligence, Logistics, Printing, Machine-To-Machine, Data Management, Package Labeling, Robotics, Service Robot, WAN Optimization, Packaging, Sensor, Wearables, Barcode, Enterprise Content Management.
1-2 of 2 reports for healthcare logistics
Purchase Reports From Reputable Market Research Publishers

Healthcare Logistics Sector: Worldwide Forecast until 2021
$ 3500

Industry report
May 2017
by Infiniti Research Limited
About Healthcare Logistics Healthcare logistics involve delivering, controlling, and planning the physical flow of pharmaceutical goods and information exchange from the producer to a market. The purpose ...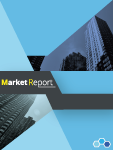 Industrial Internet of Things (IIoT) Market Analysis By Component (Solution, Services, Platform), By End-Use (Manufacturing, Energy & Power, Oil & Gas, Healthcare, Logistics & Transport, Agriculture), And Segment Forecasts, 2014 - 2025
$ 4950

Industry report
April 2017
by Grand View Research
The global industrial IoT market is expected to reach USD 933.62 billion by 2025, according to a new report by Grand View Research, Inc. The growing demand and adoption of cloud computing, coupled with ...
About 1900 reports for healthcare logistics
Download Unlimited Documents from Trusted Public Sources