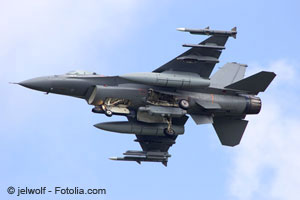 The global military aircraft industry is forecast to climb to a value of $72 billion by 2021, according to research from ICD Research. Market growth through 2021 is expected to reach a yearly rate of almost 7%.

There are six broad categories in the military aircraft industry, namely transport, aircraft, attack, reconnaissance and surveillance, bombers and training, and multi-role. Military aircraft demand is expected to be fuelled by domestic and external security threats, modernization initiatives on the part of global armed forces, and territorial disputes.



Trends

The global military fighter aircraft industry is expected to witness strong growth over the next decade driven by fifth-generation fighter jet capability demand from military nations, reports Visiongain. Rising costs and budget restraints concerning fighter aircraft programs continue to slow market growth. However, due to major project launches, including the F-35 joint strike fighter, and rising demand from emerging nations, the military fighter aircraft industry reached a value in excess of $34 billion in 2012.

Military aircraft avionics systems are used in surveillance, search and rescue operations, reconnaissance and humanitarian relief. They also play a pivotal role in the utility and competitiveness of aircraft worldwide, reports Visiongain. Global government spending on military aircraft avionics systems reached almost $17 billion in 2012.

A nation's military aircraft power is largely dependent on the effectiveness of its avionics systems. Many countries will be under pressure to cut spending on defense over the decade ending 2022, which will take a toll of the global military aircraft avionics systems industry. Over the next decade, the US is expected to remain in the top spot of the world's military aircraft avionics industry. However, growth in emerging countries – such as Brazil, Saudi Arabia, India and China – is also expected to expand rapidly.

The world's military aircraft maintenance, repair & overhaul (MRO) industry is forecast to reach a value of almost $42 billion in 2013, according to research from Visiongain. The effectiveness of a nation's military air force depends to a large extent on its MRO services. These support services have to be carried out within minimal timescales, without loss in quality of service despite the pressure. MRO provisions and networks are therefore playing an increasingly important role in the military sector of established and emerging nations.

In an effort to cut defense budgets and encourage efficiency savings, many nations are availing of MRO to extend the life cycle of older and ageing fixed-wing legacy aircraft. Since new transport, fighter and special operations aircraft are employing more advanced technology systems, MRO services will have to become increasingly specialized in coming years.



Regional Market Share

The US is forecast to continue dominating the global military aircraft industry, with the EU and the Asia-Pacific region following. The EU's share of the global military aircraft industry is expected to increase as EU countries seek to replace ageing military aircraft, reports ICD Research.



Outlook

The multi-role aircraft segment is forecast to represent the largest proportion of expenditure in the military aircraft industry in the near future, according to ICD Research. Transport aircraft will account for the next-highest proportion of spending, followed by reconnaissance and surveillance aircraft. Multi-role aircraft demand is expected to rise higher than other segments, pointing to a rise in the number of programs underway worldwide.

Budget cuts throughout the world prompted by the economic downturn has driven demand for multi-role aircraft, which can be used for various types of missions such as attack, transport, reconnaissance and rescue operations. This trend is expected to continue, fueling higher demand for multi-role aircraft.



Leading Industry Associations

• Air Force Association www.afa.org
• Aerospace Industries Association www.aia-aerospace.org