Business Intelligence Industry Statistics
You might be interested in: Hospital, Healthcare, Software, Retail, Energy, Cloud Computing, Data Analytics, Artificial Intelligence, Big Data, Internet Of Things, Blockchain, Machine-To-Machine, Virtual Reality, Information Technology, Open Data, RFID, Augmented Reality, Semantic Web, Smart Home, Smart Lighting.
1-10 of about 14000 reports for Business Intelligence
January 2017
130 pages


Business Intell...

Marketing

World
View report >
January 2016
202 pages


United States

North America
View report >
December 2016
44 pages


E-Commerce

China

World

Asia
View report >
32 reports for Business Intelligence
Purchase Reports From Reputable Market Research Publishers
(From $ 732 - $ 5550)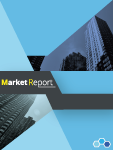 NORTH AMERICA BUSINESS INTELLIGENCE MARKET FORECAST 2018-2026
$ 1307

Industry report
May 2018
by Inkwood Research
KEY FINDINGSThe market for business intelligence in North America region is expected to develop at 9.12% of CAGR during the years 2018-2026. North America is the leader in the global business intelligence ...