Data Analytics Industry Statistics
You might be interested in: Energy, Hospital, Insurance, Healthcare, Housing, Information Technology, Cloud Computing, Big Data, Software, E-Commerce, Computer Security, Telecom, Application Software, Data Center, Patient Data Management, Web 2.0, Broadband, Media, Internet Of Things, Business Intelligence.
1-7 of about 600 reports for Data Analytics
61 reports for Data Analytics
Purchase Reports From Reputable Market Research Publishers
(From $ 390 - $ 6000)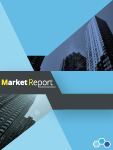 EUROPE GEOSPATIAL IMAGERY ANALYTICS MARKET FORECAST 2017-2025
$ 1238

Industry report
December 2017
by Inkwood Research
KEY FINDINGSThe Europe Geospatial Imagery Analytics market which was calculated to be worth $869 million in 2016 is predicted to evolve further over the forecast period of 2017-2026. By the end of 2026, ...