Flywheel Storage Industry Statistics
You might be interested in: Energy, Electricity, Photovoltaics, Renewable Energy, Electrical Grid, Energy Storage, Battery, Compressed Air Storage, Pumped Hydro Storage, Lithium-Ion Battery, Fuel Cell, Rechargeable Battery, Power To Gas, Flow Battery.
1-10 of about 600 reports for Flywheel Storage
January 2016
188 pages


Energy

Rail

Electrical Grid

Spain
View report >
January 2017
67 pages


Electricity

Energy

Energy Storage

Germany
View report >
2 reports for Flywheel Storage
Purchase Reports From Reputable Market Research Publishers
(From € 1125 - € 1125)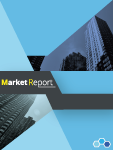 NORTH AMERICA FLYWHEEL ENERGY STORAGE MARKET FORECAST 2018-2026
€ 1188

Industry report
April 2018
by Inkwood Research
KEY FINDINGSThe North America flywheel energy storage market is estimated to grow at a CAGR of 9.01%, generating a revenue of USD xx thousand over the forecast period of 2018-2026. Growing demand for centralized ...