Nanomaterial Industry Statistics
You might be interested in: Pollution Control, Energy, Environment, Graphene, Food, Nanotechnology, Nanoparticle, Nanocomposite, Nanowire, Nanoelectronic, Nanocellulose, Nanocrystal, Carbon Nanotube, Nanostructure, Nanofood, Bionanotechnology, Mineral Nanoparticle.
1-10 of about 2200 reports for Nanomaterial
37 reports for Nanomaterial
Purchase Reports From Reputable Market Research Publishers
(From $ 450 - $ 5100)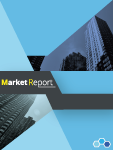 Nanofiber materials - Global Market Outlook (2017-2026)
$ 4376

Industry report
July 2018
by Stratistics MRC
According to Stratistics MRC, the Global Nanofiber Market is expected to grow at a CAGR of 32.12% during the forecast period. Factors such as growing commercialization due to the increasing end-user industrial ...