Power Distribution Industry Statistics
You might be interested in: Energy, Pollution Control, Renewable Energy, Natural Gas, Energy Efficiency, Electricity, Electrical Grid, Electricity Generation, Electric Power, Smart Grid, Cogeneration, Battery, Microgrid, Energy Storage, Fuel Cell, Power Transmission, Coal-Fired Power Generation, Combined Cycle, Pumped Hydro Storage, Distributed Generation.
1-7 of 67 reports for Power Distribution
21 reports for Power Distribution
Purchase Reports From Reputable Market Research Publishers
(From $ 125 - $ 5950)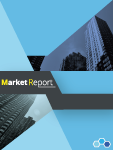 THE GAS INSULATED SUBSTATION (GIS) MARKET FORECAST 2018-2028
$ 3628

Industry report
February 2018
by Visiongain
Forecasts ($bn) by Voltage Range (Medium (? 72.5 KV) and High (> 72.5 KV) voltage), by Regions (North America Europe, Asia-Pacific, Middle East/Africa and Latin America) Plus Profiles of Leading Companies ...