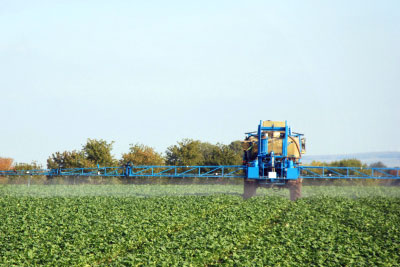 Global Agrochemical Industry
The world agrochemical market is predicted to reach $223 billion in 2015, according to industry research. This represents a yearly growth rate of almost 11% in the five-year period ending 2015. Market drivers include growing population, declining availability of arable land, and agrochemical use in biofuel production.
Fertilizers provide nutrients needed for optimal crop growth, essentially making up for nutrients that the soil may be lacking. Nitrogenous fertilizers represent close to half the market but segment growth is relatively low. Phosphatic fertilizers represent a smaller market share but the segment shows more rapid growth. Organophosphate pesticides are predicted to gain increasing market share due to its many chemicals, including chlorpyrifos and glyphosate.
Programs such as Integrated Pest Management and Integrated Nutrient Management limit potential health, economic and environmental risks from using agrochemicals. The former puts practices in place to limit economic damage due to pests by preventing infestation and intervening when necessary. Integrated Nutrient Management seeks to conserve plant nutrient supply and soil fertility at appropriate levels to optimize productivity.
Key Market Segments
Market Outlook
Technological advances and new ownership of land for crop cultivation will continue to boost agricultural production. Investment in the sector will intensify, creating growth opportunities across most sectors. Because arable land is limited and food demand is growing due to rising population, the agriculture sector is looking to agrochemical solutions to yield healthy crops and increase productivity. New products and technological innovation will attract the farming industry, under pressure to increase output.
Pest and nutrient management systems are making agrochemical use safer, which continues to encourage demand not only in developed markets but also in emerging countries, such as India, where their use is relatively recent. As the US housing sector continues to rebound, lawn and garden consumables will continue to benefit from growing demand.
Leading Industry Associations