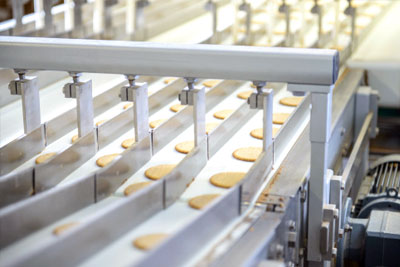 Global Food Processing Industry Analysis
The global market for machinery and equipment used in the global food manufacturing process is expected to be worth more than $45 billion by 2015, according to Global Industry Analysts. Food processing involves the production of finished food products from raw ingredients, with pocessing lengthening the shelf life of products and adhering to hygiene and health standards. Legislative measures to enforce standards of health and hygiene are fuelling the market, along with better-informed consumers, and new food processing practices and products.
Companies involved in drink processing, and food packaging and sterilization are adapting to evolving regulations. Location is also important as proximity to raw materials and the final site cuts down on transport and distribution costs.
The food processing industry is characterized by intense competition, with the most reliable firms performing well by focusing on efficiency in terms of fast processing and distribution. The global economic recession had less effect on the food processing industry than other industries due to rising demand for pre-packaged food. The industry is becoming increasingly automated, and is therefore seeing labor costs decline. The advantages of food processing include greater food consistency, longer shelf life, removal of toxins, reduction of food borne diseases and cheaper food.
Key Segment
The global fresh meat market is expected to produce 300 million tons by 2015, according to Global Industry Analysts. A rising global population and extensive urbanization are driving forces for the market. Asia-Pacific demand is growing in tandem with disposable incomes and meat consumption. Leading companies operating in this market segment include Cargill Meat Solutions, Dawn Farm Foods, Amadori Group and Kraft Foods.
US Poultry Processing Statistics, 2009 - 2010
| | | |
| --- | --- | --- |
| | 2009 | 2010 |
| Number of employees | 225,698 | 219,908 |
| Annual payroll ($1,000) | 5,998,061 | 6,028,567 |
| Total fringe benefits ($1,000) | 1,485,261 | 1,675,039 |
| Total value of shipments ($1,000) | 51,957,051 | 51,133,965 |
| Value of products shipments ($1,000) | 51,201,367 | 50,465,398 |
| Value of resales ($1,000) | 542,131 | 595,608 |
| Value added ($1,000) | 21,878,375 | 22,317,179 |
| Total inventories, end of year ($1,000) | 1,422,468 | 1,417,502 |
| Finished goods inventories, end of year ($1,000) | 722,128 | 719,917 |
| Total capital expenditures (new and used) ($1,000) | 869,828 | 659,045 |
| Total depreciation ($1,000) | 899,608 | 897,108 |
Source: U.S. Census Bureau, 2010 Annual Survey of Manufactures.
Regional Market Share
Asia-Pacific leads the food processing industry in terms of market share. Market growth in countries in Eastern Europe and Asia-Pacific continues as developing countries enjoy a more favorable economic climate, with larger disposable incomes and improved living standards. Demand for food that is light on preparation time continues to grow in developed countries. Germany, The US, France and Austria are among the major exporters of food processing machinery while the US, the UK, Germany and France lead in importing.
China's processed food industry is expected to continue showing close to 35% yearly growth from 2010 through 2013, mainly due to higher standards of living and improved economic conditions, reports RNCOS. China's processed food market was left relatively unscathed by the economic downturn. Growth will continue to be lead by meat processing, with has a forecast yearly growth of more than 15% for the next few years. Other leading food market segments in China are dairy products and ready meals. Growth will likely continue as China's 25% rate of processed food production catches up with the average 80% rate in developed nations such as the US.
Market Outlook
The main driving force behind the global food industry is technological innovation, which concentrates on satisfying consumer demand for more tastes and easy-to-prepare foods. Companies are focusing on innovation to boost profits, with 60% of large companies and over 40% of medium sized enterprises investing in process and product innovation. Over 99% of the EU food and beverage industry is comprised of small-and-medium-sized enterprises. Danish, French and Greek food processing companies dedicate a sizeable part of their profit to research and development, while other countries such as Austria, Hungary and the Czech Republic lag further behind.
The main aims of research and development within the food processing industry are better quality food, enhanced taste, cheaper prices and greater convenience. Other industries recruited in the process include nanotechnology, biotechnology and other advanced information technology fields. Companies cut production costs by: reducing waste; employing effective manufacturing techniques used in other industries; optimizing automation to cut back on labor costs; and finding ways to cut down on input materials such as energy.
As the industry is undergoing rapid expansion, specialized knowledge and targeted research are necessary moving forward. Constantly evolving technological approaches must be integrated in a time-efficient and cost-effective manner, while keeping a close eye on consumer perception and acceptance of processing equipment and practices. Collaboration with high-tech partners will allow the food processing industry to capitalize on technical savvy, and share research and development costs to maximize profit.
Leading Industry Associations
You might be interested in these related markets