Global Retail Industry Overview
The global retail industry is classified into four categories: fast-moving consumer goods (FMCG), fashion goods, hardlines and leisure goods, and diversified products. FMCG sales growth has been outpacing the sales of the other product categories in recent years, according to Deloitte.
Retail Industry Key Markets
The global retail industry analysis encompasses all direct sale to end consumers activities. It includes all kinds of store formats: specialty stores, supermarkets & hypermarkets, discount stores, general dealer, convenience stores, warehouses (for instance, used by wholesalers), in-store retail and non-store retail, large department stores, kiosks, mobile trucks and pop-up stores. It also covers mail order and online sales to end consumers.
The U.S. dominates the retail industry. Europe is the second largest market, with the U.K., France and Germany the key countries in the region.
Retail Industry Key Players
The global retail market is highly fragmented. Many major retailers, such as Walmart and Carrefour (which are the leader in many retail sector such as the food retailing industry), are based in the U.S. or Europe. Important retailers and e-retailers from Asia-Pacific include Alibaba Group (China) and Seven & I Holdings (Japan).
Walmart is the largest retailer in the world with a 3% market share. It operates a chain of discount department stores and warehouse stores globally as well as selling products online. Its product range comprises both branded and in-house/private labels.
Carrefour is the second largest international retail chain with a nearly 1% market share. It has a presence in Europe, Asia, Middle East and the Americas outside the U.S.
Retail Industry Sales Forecast
Global retail sales are projected to grow at a CAGR of 4% during 2013-2018 to reach $19 trillion in 2018. Retail market growth is expected to be driven primarily by an increase in online shopping.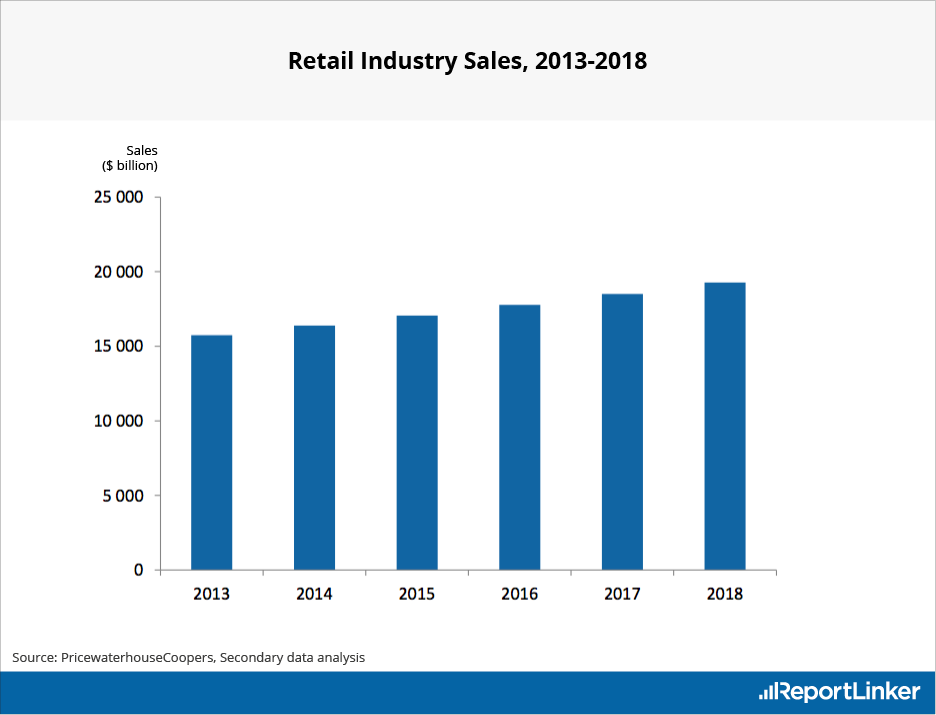 Key Trends and Strategies for Growth in the Retail Industry
A number of major trends can be identified in the retail market.
Asia will be the Most Important Retail Market Going Forward
Asia will have 3.3 billion middle-class people by 2030 (66% of the global middle-class population), according to the Organization for Economic Cooperation and Development (OECD). In addition, the easing of government regulations in Asia will drive retail sales there in the future. For instance, India is emerging as an important destination for retailers as earlier ownership restrictions are lifted.
Global retailers need to maintain or increase their efforts to gain market share in Asian markets.
Analytics are Being Used to Streamline Supply Chains
Companies are investing in data analytics to align supply with demand. Advances in analytics allow retailers to examine consumer behavior, patterns and trends. This improves accuracy in demand estimates and in turn drives efficiency throughout the supply chain.
Retailers should use improved data to organize their supply chains more efficiently and become more responsive to customer demands.
Consumers are Using Mobile Devices in Their Purchasing Processes
Social media and mobility solutions have facilitated two way interactions between retailers and consumers, creating stronger and more personalized relationships. The development of smart devices has put power in the hands of consumers. Over 60% of pre-purchase web searches are now conducted on a mobile device, according to Google Research.
Retailers therefore need to develop mobile channel strategies.
Use of RFID and MRI is Set to Increase Rapidly
Existing technologies such as radio-frequency identification (RFID) and magnetic resonance imaging (MRI) have untapped potential. While RFID can be used to validate contents, MRI can be used for quality control, for instance to find contamination in food products. Wider use of these technologies will make the supply chain more flexible. RFID technology can also help tailor inventory management to customer demand, leading to improvements in margins and asset efficiency.
Retailers should invest further in these technologies to match supply with consumer demand.
Leading Industry Associations