Global Card Game Trends in 2022
Card Game is part of Toy And Game. You may also be interested in Toy and Board Game.
Global Card Game Demand is set to reach $1,736,900,000 by 2026 from $1,613,600,000 in 2021, growing 1.2% year on year on average. Since 2016, Global demand was up 0.5% year on year. In 2021, Japan came in number 1 in at $458,340,000. China, Canada and France respectively ranked numbers 2, 3 and 4 in this ranking. New Zealand jumped by 11.8% year on year, while Japan decreased by 5.2% year on year since 2016.
Top 10 countries
In 2022 major markets in the Card Game Industry were:
Card Game Market Data and Forecasts
Global Card Game Industry Database
Purchase Reports from Reputable Market Research Publishers
---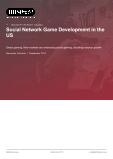 ---