Global Automotive Parts & Supplies Industry
The Automotive Parts and Supplies industry is a challenging component of the car sector. Having suffered as a result of the global economic recession, the automotive parts and supplies industry is likely to begin recovering soon. The export of US automotive parts rose over 36% in 2011 to more than $58 billion says the International Trade Administration, with almost 85% of exports going to Canada.
Automotive imports climbed more than 44% to almost $91 billion in 2010, with Chinese imports up 35% to $10 billion. The trade deficit concerning US automotive parts in 2010 reached almost $33 billion, an increase of over 61% on the previous year.
Around 70% of US automotive parts are produced for original-equipment products, with the remainder produced for the aftermarket, involving the repair and modification of vehicles. As this industry is directly linked to the automotive industry, it rises and declines according to demand and sales of vehicles. Due to the economic downturn in 2009, many suppliers were running operations at around 55% capacity.
Industry productivity is set to increase as car manufacturers, such as Ford, seek to put global platforms in place to make the same vehicles in different regions from the same platform. Global platforms cut engineering costs, limit discrepancies in production to improve quality, and simplify the manufacturing process, which affect the automobile engine industrial sector in depth.
Key Segments
The fast fit market involves profit from sales of vehicle components such as mechanical parts, brakes, tires and service parts. This market segment is expected to show yearly growth in excess of 3% for the five-year period ending 2015, reaching almost $7 billion.
The auto electronic and electric equipment market, particularly through the transmission systems market, is forecasted to sell some 86.5 million units in 2015, according to Global Industry Analysts. The market's recovery follows a rebound in automobile production due to increased consumer demand, with strong demand in Asia-Pacific.
The remanufactured automotive parts industry has a global worth of between $85 billion and $100 billion. There are between 2,000 and 3,000 remanufactured automotive parts facilities in operation throughout the US.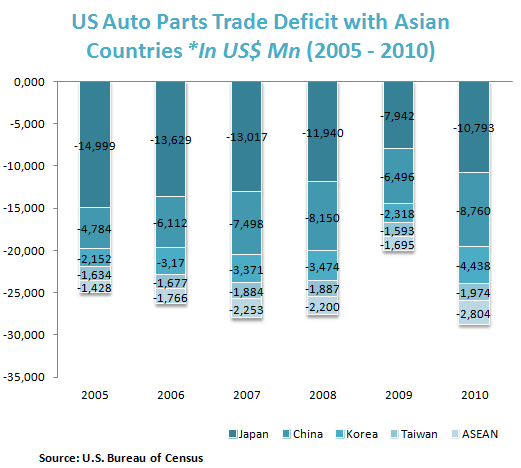 Regional Market Share
The US imported close to $14 billion worth of automotive parts from Japan in 2010, or a quarter of overall Japanese exports, according to the International Trade Administration. Chinese exports reached almost $12.5 billion, followed by Thailand at close to $6 billion. Other significant players on the export market included the UK, Indonesia, South Korea, Germany (with companies such as Mann + Hummel who recently acquired the US supplier Affinia), Mexico and Canada.
South Korea is a key player in the production of motor vehicles. It was the world's fifth-largest manufacturer in 2009, and produced close to 4.5 million vehicles in 2010, selling 1.5 million units and exporting the remainder. Its domestic auto part sales were in excess of $35 billion in 2009, meeting almost 95% of demand. Hyundai Mobis, its number-one auto parts producer, has sales in excess of $11 billion, making it the world's twelfth-largest producer.
Almost three quarters of US automotive parts exports went to Canada and Mexico in 2011. US automotive parts imports from Canada and Mexico in the same year were worth close to $43 billion, or 47% of overall automotive parts. The US imported just over $1.5 billion in automotive parts from China in 2000, and this figure grew to over $8.5 billion by 2007. It is expected to continue to expand in coming years.