Global Digestive System Disorder Trends in 2022
Digestive System Disorder is part of Pathology. You may also be interested in Infectious Disease, Blood Disease and Obesity.
Global sales of digestive system disorder medicines are projected to reach $38 billion by 2026, an increase of 0.6% annually since 2017. In 2021, Germany topped the rankings with sales of nearly $6 billion. Japan, South Korea and Canada followed in second, third and fourth place respectively. Iceland saw the greatest growth, with an annual increase of 7.8%, while Australia saw a 0.3% decrease since 2017.
Top 10 countries
In 2022 major markets in the Digestive System Disorder Industry were:
Digestive System Disorder Market Data and Forecasts
Global Digestive System Disorder Statistics
Global Digestive System Disorder Industry Database
Purchase Reports from Reputable Market Research Publishers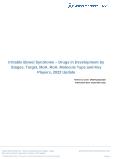 ---