Global Electricity Market
Industry-related electric power needs represent almost 38% of the global electricity market's overall worth.
Regarding energy consumption grew, the EIA expects new electricity generation will grow almost 85% to close to 26 trillion kWh in 2020 and over 35 trillion kWh in 2035.
Electric Power Equipment
The global electric equipment market segment - including energy storage and electric power generation - saw total revenue of over $179 billion last year, with power cable sales the strongest sub-segment generating $46 billion. MarketLine research shows that with an expected compound annual growth rate of more than 4% over the next four years, the global electric equipment market value should reach $219.5 billion before 2016.
Key Electrical Regional Market Share
Over 70% of sub-Saharan Africa's population has no electric power. Getting electricity to underpowered areas can be a rapid process. The Vietnamese government put an electrification initiative into action that saw the number of rural homes with electricity jump from 50% in 1996 to 95% 12 years later.
Just under half the world's electric power supply was used by non-OECD countries in 2008. This level of consumption is expected to rise to 60% by 2035. Non-OECD nation electricity generation is rising at an annual rate of almost 2.5%. The generation rate in China and India is above average at 4%, expected to remain steady up to 2035. In the same period, electricity generation in OECD countries will around 1%.
The global electric power market is moderately competitive, though Asia-Pacific represents over 40% of the market with China Southern Power Grid a top provider at over 12% of the market in terms of volume, according to MarketLine.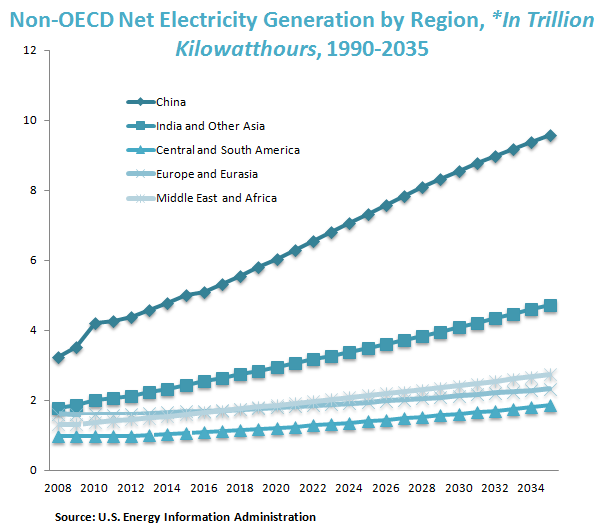 Electricity Supply Sources
Coal is the top energy source for the generation of electric power, representing 40% of the global supply of electric power; coal is set to fall to 37% by 2035, according to the EIA. The use of oil has been falling steadily due to high prices. Environment-conscious governments are turning away from fossil fuels in favor of renewable energy. Consumption of renewable energy is set to continue increasing at its current rate of over 3% to 2035. Renewable energy is followed by gas, growing at over 2.5% annually, and nuclear at just under 2.5%.