Global Energy Industry
The global market for energy consumption is forecast to grow almost 55% by 2035, according to the US Energy Information Administration's International Energy Outlook. The fastest rate of growth in energy consumption is represented by nations outside of the Organization for Economic Cooperation and Development (OECD) showing signs of economic growth: within the OECD, growth is expected to remain inferior to 20% and outside the OECD it is forecast to rise by 85%.
Factors impacting the global energy industry and its rate of growth include different rates of recovery from the worldwide 2008 recession, setbacks due to natural disasters and rising oil prices. Japan's earthquake and tsunami crisis in March 2011 have had a knock-on effect on the use of nuclear power both in Japan and around the globe.
Leading Market Segments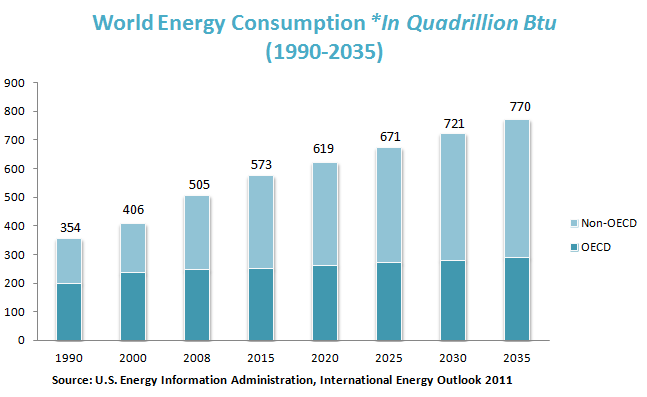 Oil Energy: Oil prices continue to climb thanks to slow growth in supply and rapid growth in emerging-market demand. With oil prices around the $100/bbl mark, strained energy budgets and governments wary of political issues that will potentially impact prices further, this segment of the global energy market remains especially volatile.
Gas Energy: Around 20% of the world's electricity is generated from gas, according to the IEA. Global gas markets have seen demand rebound to higher levels than before the global recession in most areas. US gas prices are around half those of Asia and the EU. There is huge demand disparity between different regions.
Nuclear Energy: The US is the world's top nuclear energy market, followed by France and Japan. They are followed by Russia, Korea, and Germany, according to the International Atomic Energy Agency.
Renewable Energy: The global renewable energy market encompasses different markets including geothermal, wind, hydro, solar, and combustion of wood and waste.
Coal Energy: The IEA estimates the world's coal reserves are adequate to last more than 120 years at today's rate of production. Coal accounts for 40% of the world's electricity. Developing countries are the heaviest consumers, believed to use 97% of the projected total. The main drawback of coal energy is its negative impact on the environment: coal accounts for 40% of CO2 released from energy generation and consumption. Carbon Capture Storage is being looked to in the global move to combat climate change.