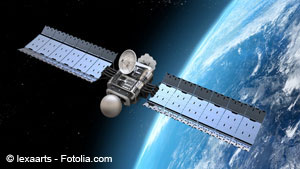 The global satellite industry is expected to reach a value of almost $220 Billion by 2015, according to research from Global Industry Analysts.

While the satellite industry was previously used in defense and communication applications, technology advances have spurred the satellite industry along, making it suitable for a wider range of services, including home entertainment through digital broadcasting.

Over the years satellite technology has evolved to the point where it now plays a central role in several facets of everyday life, from enabling navigation and communications to entertainment and weather forecasting.



Key Market Segments

Satellite services represent the leading segment in the global satellite industry, reports Global Industry Analysts. Widespread television viewing has lead to a rising number of subscriptions for direct-to-home/direct broadcast satellite (DTH/DBS) services, in particular in developing markets such as China and India. The availability of advanced services like HDTV and 3D-TV are also driving demand for satellite TV services.

In the case of consumer broadband satellite, growth continues to be driven by rural broadband rollouts worldwide, and increasing demand for internet services from small office/home office businesses. The government, which accounts for more than 65% of spacecrafts launched, will remain among the top demand drivers for satellites. State investment in satellite technologies remains strong due to its role in acquiring geo-information and communication solutions, contributing in turn to a country's socio-economic development.

Satellite communication used in the marine sector is witnessing higher use of VSAT, which improves crew welfare while optimizing operational efficiency. Shipping companies are expected to adopt this technology due to the benefits it offers, boosting market growth. Visiongain estimates the global marine satellite communications industry exceeded a value of $755 million in 2012.

TechNavio predicts the global fixed satellite service industry will witness yearly growth at a rate of 5% between 2011 and 2015. Rising demand for TV and video transponders is one of the most significant factors fueling growth. The global fixed satellite service industry also continues to benefit from a wider range of value-enhanced services offered by fixed satellite service providers.

The fact that this market requires high investment could represent an obstacle to growth. Leading industry players currently operating in the global fixed satellite service industry include Telesat Holdings, SES, Intelsat, and Eutelsat Communications.



Regional Market Share

China's satellite transmission service industry witnessed yearly growth of 14% between 2007 and 2012, reaching a value of $286 billion in 2012, reports IBISWorld.

Rising demand for satellite television broadcasting and communications has driven growth in the industry, with a particular boost coming from sporting events like the Shanghai Asian Games and the 2008 Beijing Olympics.

The Chinese satellite transmission service industry is characterized by a high level of market share concentration where the government regulates satellite transmission services closely, making entry into the market difficult. State companies Beijing Marine Communication and Navigation Company, SINO Satellite Communications and China Satcom heavily dominate the industry.

Though satellite transmission service operators have vast market opportunities to exploit as a high-tech communication service, the sector has to continue fending off a substitution threat in the guise of optical wire-based transmission services. China saw the launch of SINOSAT-3, ChinaSat-6B and ChinaSat-9 in 2007, boosting capacity for global positioning system and television broadcasting services.

Meanwhile, China's satellite transmission service industry has recently witnessed the rise of satellite positioning and navigation services on the back of inexpensive GPS devices developed on the domestic market.



Outlook

The global satellite industry has faced obstacles in recent years, including the dotcom bust, the economic recession, and the trend toward fiber connectivity. However, moving forward the industry is expected to witness growth, due in large part to rising consumer demand for entertainment and satellite-based broadcasting services.

The industry's ability to adapt to meet evolving needs in the telecommunications sector, which represents a significant end-use sector, will also fuel growth in coming years.



Leading Industry Association

• Satellite Industry Association www.sia.org